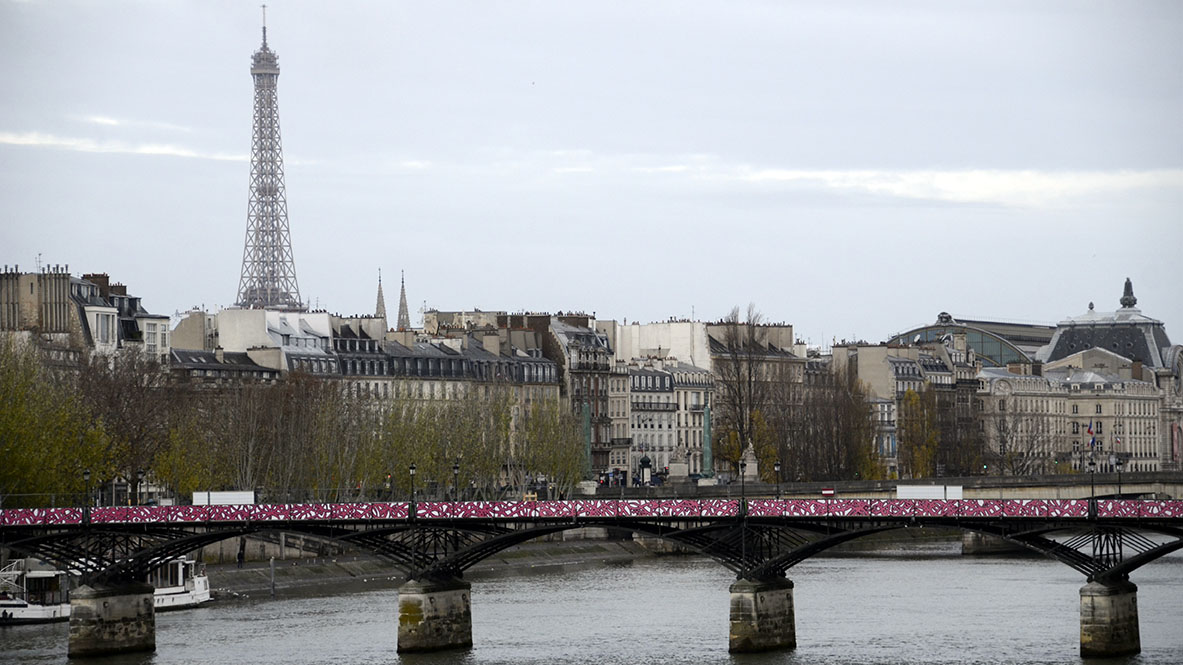 Young people are one of the largest demographics in the world — more than one billion youth roam the globe today. With their knowledge, young people are already the leaders of this generation, playing a key role within the climate negotiations and in their communities, and COP21 represents an opportunity to engage youth delegates from around the world.
To prove that young people are key players in reaching innovative and ambitious solutions to climate change, Paris's calendar of events included a day dedicated to youth.
December 3: Youth and Future Generations
On December 3, the Young and Future's Generation Day at the UNFCCC is a non-stop celebration of youth power and participation at UN climate change conferences. The youth day will host a number of youth-focused events throughout the day, placing youth at the heart of the climate talks. Connect4Climate has contributed in creating a dynamic and engaging program.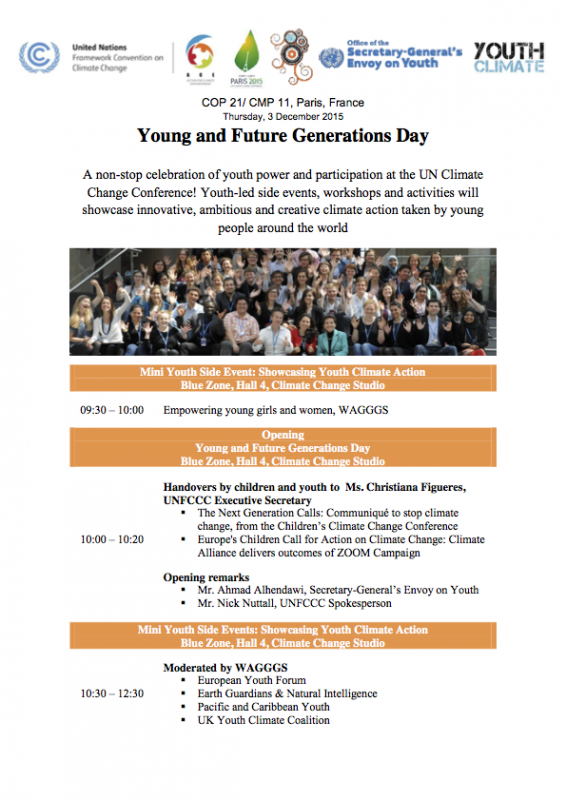 Intergenerational Enquiry, 1:15pm, Dec 3
At midday young leaders will join their older counterparts, including Christiana Figueres, on the Intergenerational Inquiry. The event is organized jointly by YOUNGO, the UN Joint Framework Initiative on Children, Youth and Climate Change, and the UNFCCC secretariat and will take place from 1:15pm to 2:45pm in the "Blue Zone".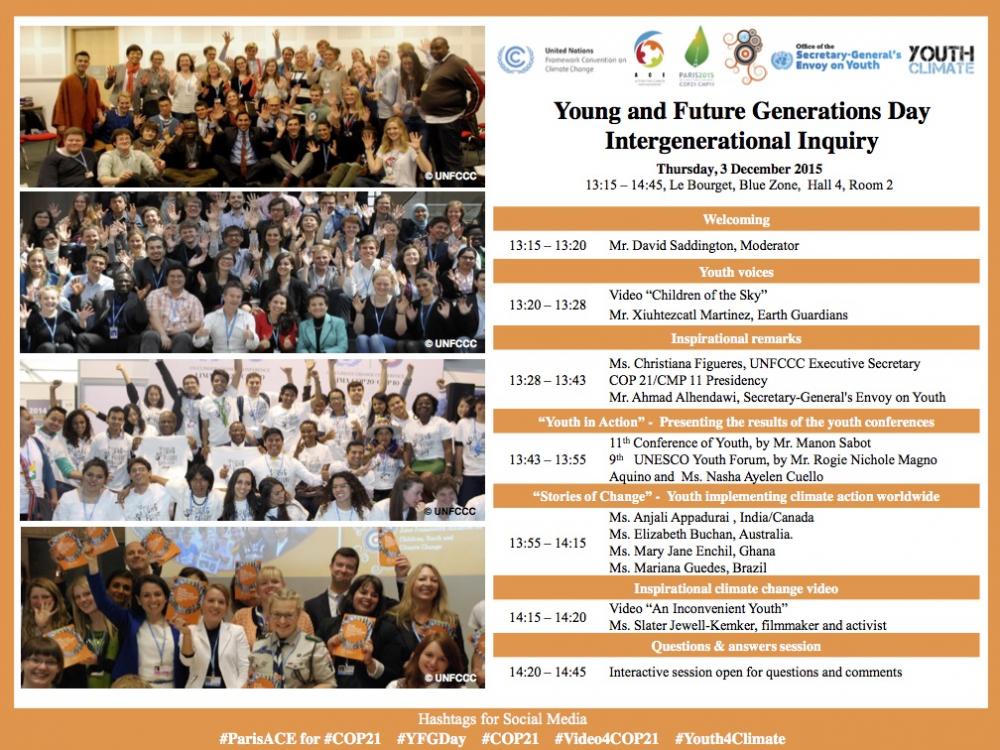 An Inconvenient Youth Screening and Discussion, 6pm, Dec 3
This is followed by a special screening of "An Inconvenient Youth", a film documenting the vibrant untold story of the global youth climate movement by Slater Jewell-Kemker, a young Canadian. As part of the program the #Film4Climate Final Draft Charter will be presented. 
Find us on the German Pavilion at 18:00 for the screening and to discuss how Film and Creativity can advance the Climate Movement. An inspiring panel will include Slater Jewell-Kemker, Kumi Naidoo, Bianca Jagger, and Fernando Mereilles.
The world needs your leadership!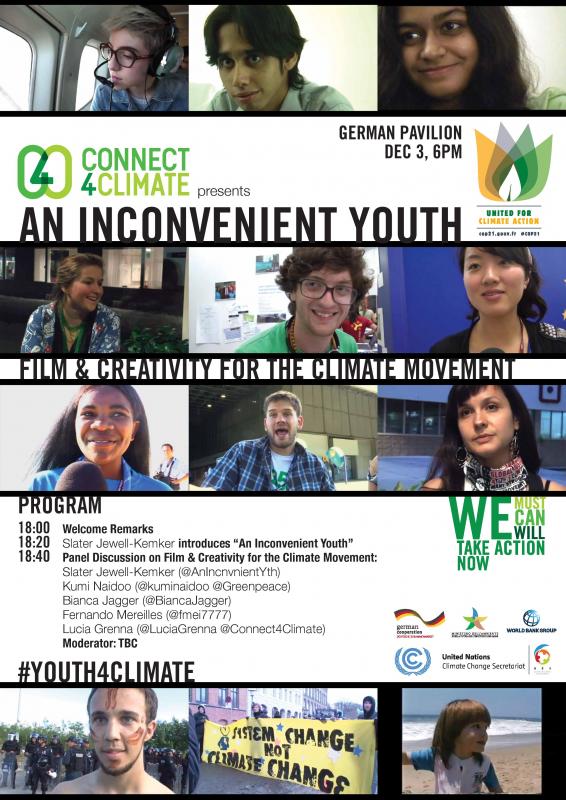 Education Day Event, 6:30pm, Dec 4
Climate education is key to promoting youth engagement with climate solutions. Join us and the UNFCCC for an engaging discussion on Non-Formal Climate Education at 6:30pm on December 4 in Room 4, Hall 4. Max Edkins will present the Connect4Climate engagement strategy and announce Fiat Lux: Illuminating Our Common Home. The event is part of a full day of events dedicated to Education at COP21.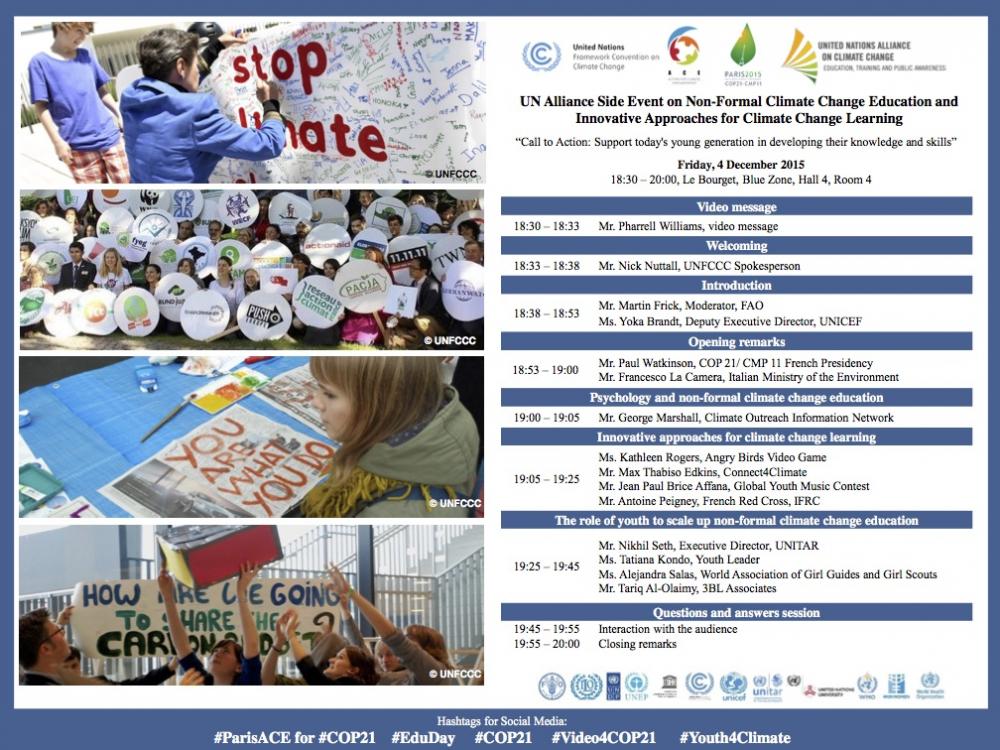 Youth Reception and Award Ceremony, 8pm, Dec 4