Winners: Forest, 13-17 years old

1st place in the 13-17 age category: The Solitude - Kamilia Safi, Selihom Werede class IV A, Liceo Asmara , Eritrea
My grandfather used to tell me about a tree, this tree. He is dead now but the tree is still there. He would always tell me how pleasant it was to play under its  shadow  and all the other trees around . Now that same tree is very lonely and it seems that the usual  things it used to do with its 'friends' are a lot harder now, almost impossible. To it holding the soil was much easier once; there was a variety of wildlife, the forest had a flourishing, welcoming view and fresh air.
Regrettably, it all began to change when the war started - many trees were cut down and entire forests reduced to almost non-existence. Trees were cut for grazing, rearing, as well as for cultivating – cutting was a must everywhere. At the end of the 19th century, 30% of the Eritrean territory was covered by forest; a hundred years later  this percentage has been further reduced to 0.45%. However, today forested areas are being expanded as the government  aims  to restore the natural environment. For the new generations, the main issue  is the following : will the climate changes preserve this attempted restoration through time and give my grandfather's tree its 'friends' back or will it just be a useless struggle against our violated and transformed nature?
2nd place in the 13-17 age category: Chad #6 - Joel Nekian, Chad - Des eleves plantent des arbres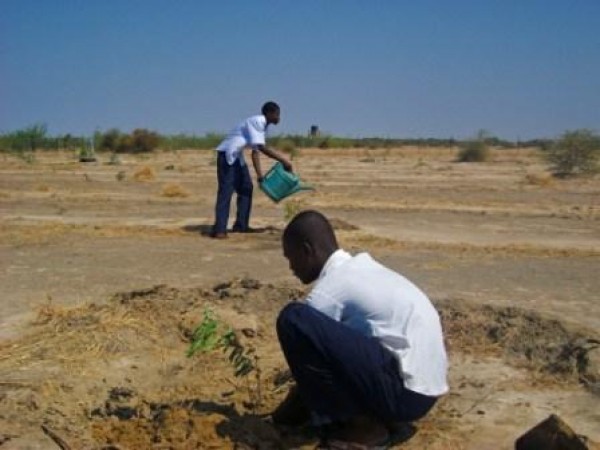 3rd place in the 13-17 age category: Saving Trees - Topollo Potsane, Mants'ase Children's Home, Lesotho
Using solar energy means fewer trees are cut down to provide fire wood - carbon is being stored not released.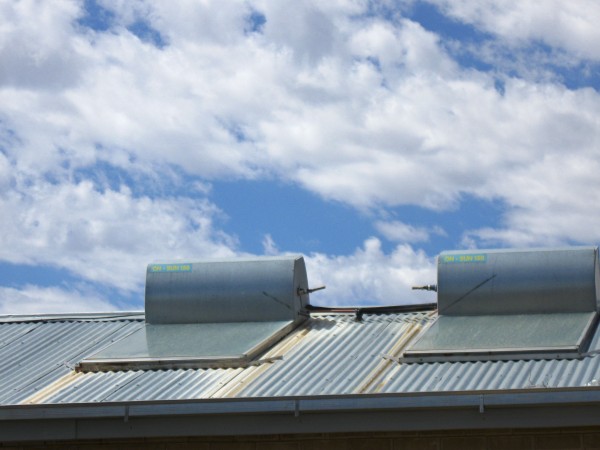 Winners: Forest, 18-24 years old
1st place in the 18-24 age category: Regrowth: The New and the Old - Serah kimundu, Kenya
This picture was taken at the edge of the Aberdare ranges (see background). This was originally part of the vast Aberdare forest found in the Central part of Kenya.  The residents who cut the trees for firewood and farmland have diminished the forest. The picture shows the old original trees and the newly planted trees that have been planted to revamp the forest. The brown  'soil' is actually sawdust that was accumulated from all the cutting of the trees. This has affected the climate as the weather and seasons have now become unpredictable thus affecting the farming in the area. Solutions have indeed been found as you can see in the picture as new trees are being planted. The Kenya forestry also prosecute and fine residents found destroying the forest.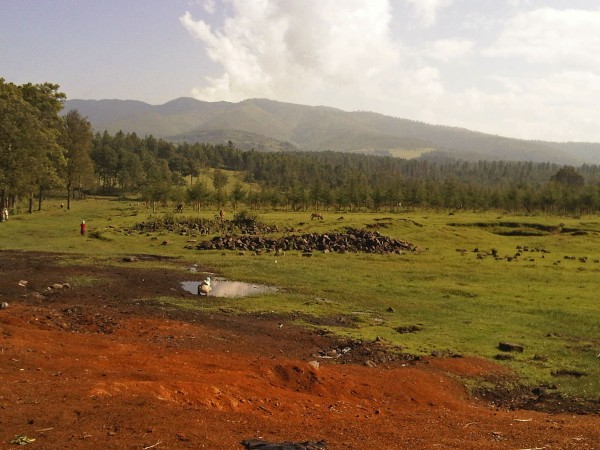 2nd place in the 18-24 age category: A tree planted is a boost - Dan Njiena, Cameroon
Answer the question of how climate change affects our lives, those of our friends in our community? It first become aware, it is first noted that climate change is primarily caused by a disorder coportementale and the expansionist desires of humans are increasing day by day 's This is why we can notice that all ls damage it causes are pollution, massive deforestation, desert encroachment, scarcity of drinking water and pout in the world is made up to 97% water and that is why it is not the safe from natural disasters.
However, admittedly some young Africans have begun to wake up and last vaccances school, they each planted a tree not far from the Ahmadou Ahidjo Stadium in Yaounde Omnipsorts in Cameroon sotien NGO Mi-plus and the Ministry Sports. they realized that a tree planted is a boost that is given to the fight against global warming, desertification, an abundance of drinking water and less than ene disaster.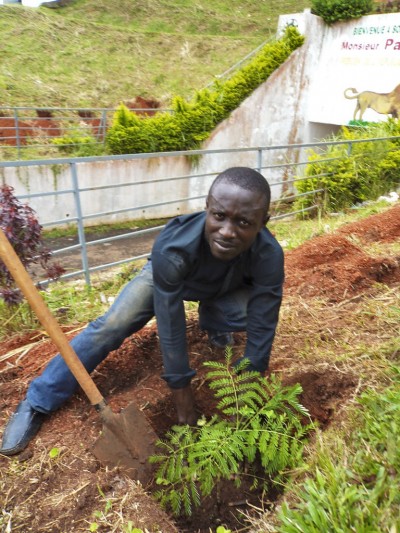 *View this video by 2nd place winner by Dan Njiena regarding his photo submission
3rd place Greening schools campaign by Rose Yvonne, Kenya
There is a huge gap in our knowledge on the impact of climate change in East Africa. Deforestation is not treated as a major cause of the change in climate,whether its because of ignorance or poverty that makes us only think of how to burn charcoal to provide for our families; their is an urgent need to let people know of the dangers behind their actions. The impacts are being felt all over the country from severe droughts leading to loss of lives to floods destroying what we hoped would be bumper harvests.  The only best way to ensure that we escape from such calamities would be to educate and encourage students of all ages to be  involved in the campaign against deforestation, as trees whether we would like to admit it or not are the surest answer to a safer world .If they embrace the attitude early in life, it would be the best pass to a greener and a more climate friendly future.
Winners: Forest 25-35 years old
1st place in the 25-35 age category: Palm trees grave - Adil Moumane, Morocco
A field in Draa Palme Grove (Zagora-Morocco) was destructed by fusaruim disease, drought, and sand encroachment, and has become a mass Grave for palme trees, so we sound the alarm to protect this environmental heritage from extinction.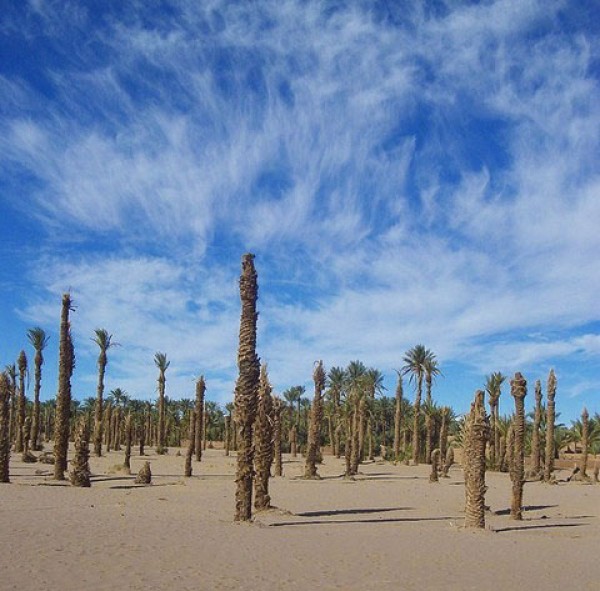 *View this video by 1st place winner Adil Moumane regarding his photo submission
2nd place in the 25-35 age category: Alsunut Forest - Ala Kheir, Sudan
It is the last forest in Khartoum,  located on the white Nile  not far from the city centre, it is home for many birds and monkeys it is a nice place that people spend their evenings at watching the sun go down. The forest now is disappearing, as people started cutting trees on one end, and the plastic wastes are contaminating most of it.Those were the main reasons killing this forest. Now the worst have come, the government sold Alsunut forest to a business man who is planning to transform it to a private park and a golf yard "which means cutting down most of those trees"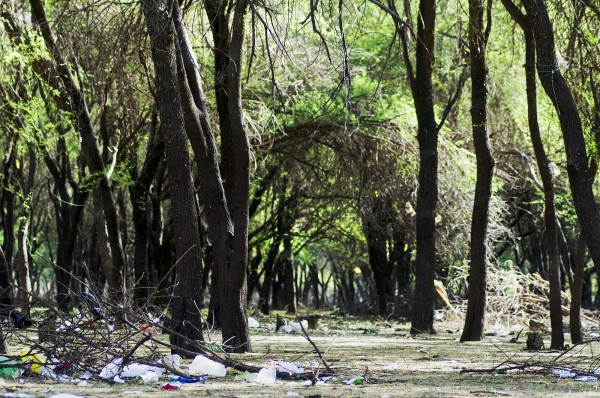 3rd place in the 25-35 age category: Forest - David Mbuthia Mwangi, Kenya
Illegal logging reduces chances of natures surviving.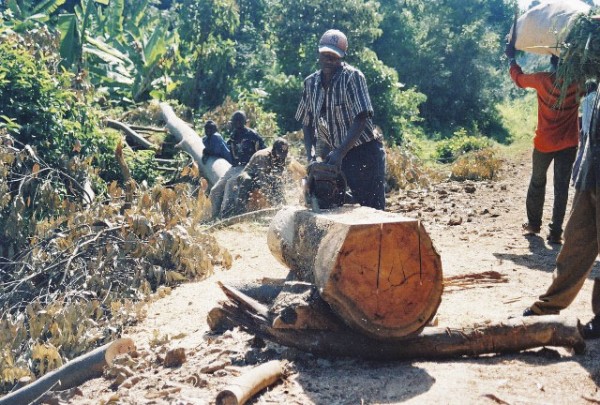 *View this video from 3rd place winner David Mbuthia Mwangi regarding his photo submission