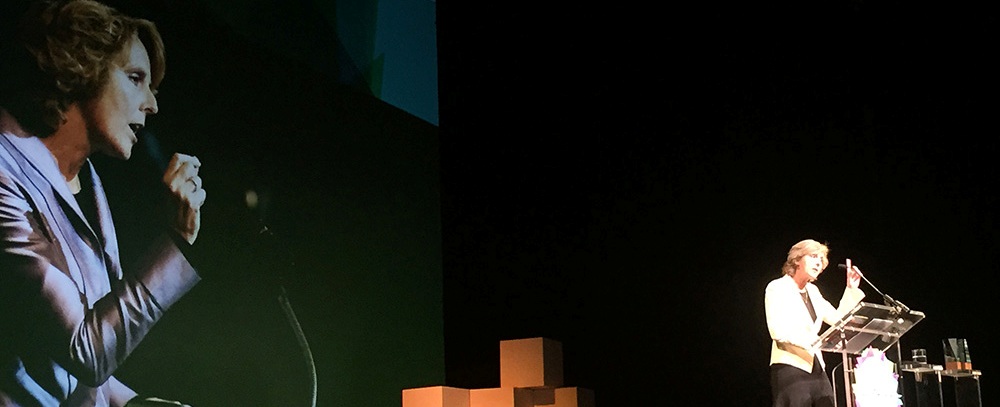 On her last day as European Commissioner for Climate Action, Connie Hedergaard delivered a climate movement-making speech at the Sustainia Awards Ceremony emphasizing, "A stands for Action, Action, Action." The science is clear, the economic arguments have been made, and now we need to shift our behavioral and leadership gears up for climate action.
The Sustainia Awards Ceremony was a true celebration of enterprises taking on climate change. Ten finalists from the SUSTAINIA100 report were presented, with Fairphone winning the community award and Wecyclers, a recycling scheme in Nigeria, winning top honors.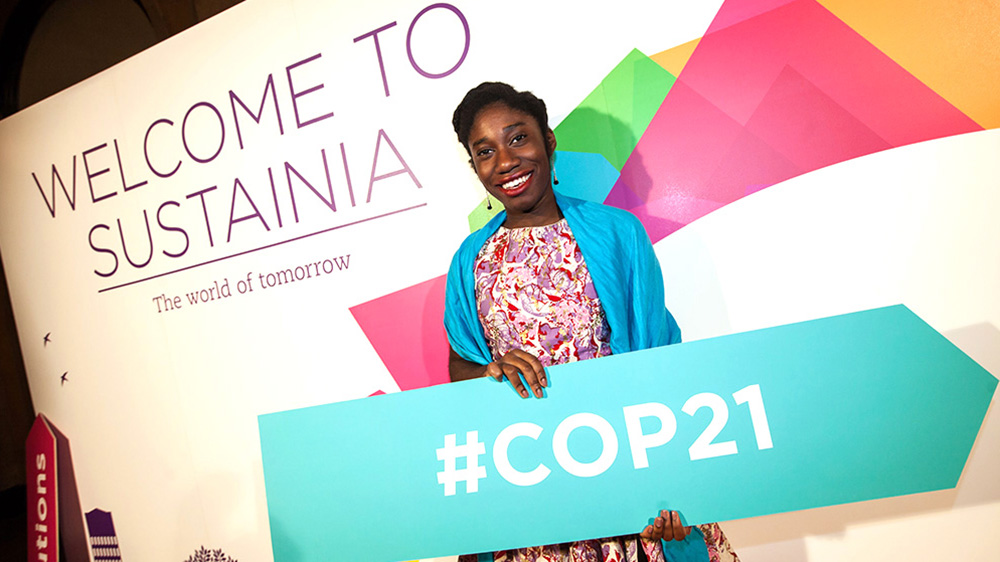 Bukky Adebayo wins the Sustainia Award 2014 with Wecyclers. Photo credit: Sustainia
In a show of climate solutions, Connect4Climate was invited to announce the winning entries of the Action4Climate documentary challenge at the Sustainia Awards Ceremony in Copenhagen on 30 October. I was honored to deliver the global youth message for climate action, as depicted in the Action4Climate films, to an audience of more than a thousand people.
On stage I quoted World Bank Group President Jim Kim's message that "we will never end poverty if we don't tackle climate change," went on to highlight that the poor are already being affected the most, and emphasized that the solutions are at hand. All we now need is a behavioral and leadership shift for climate action. The World Bank Group's Climate-Smart Development report shows that we can promote prosperity, end poverty and tackle climate change all at the same time.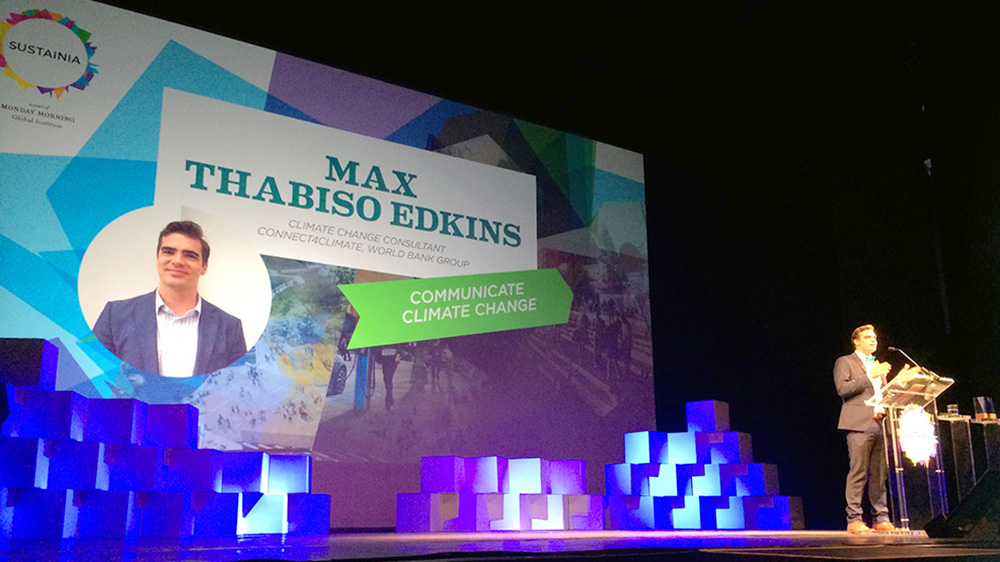 On stage for Connect4Climate announcing Action4Climate winners. Photo credit: Sarah Kay
The solutions showcased are examples of businesses and individuals showing leadership in addressing climate change and shifting development to a low-carbon future. Three days later, in the same city, the Intergovernmental Panel on Climate Change (IPCC) published the most important assessment of global warming yet. The UN's IPCC Report, the work of thousands of scientists, emphasizes that climate action is needed now.
It is the first IPCC report since 2007 to bring together all aspects of tackling climate change. For the first time it states that global poverty can only be reduced by halting global warming, that it is economically affordable, and that net carbon emissions will ultimately have to fall to zero.
The report emphasizes that by 2050 the world's electricity can and must be produced from low-carbon sources. And so the journey to zero net carbon must accelerate.
Rajendra Pachauri, chairman of the IPPC, has said: "Tremendous strides are being made in alternative sources of clean energy. There is much we can do to use energy more efficiently. Reducing and ultimately eliminating deforestation provides additional avenues for action."
We seem to be at a crucial point where tackling climate change is possible. Globally people took to the streets for the People's Climate March and demanded climate action. The UN Climate Summit showed remarkable progress, especially with the announcement of more than a thousand businesses supporting a price on carbon.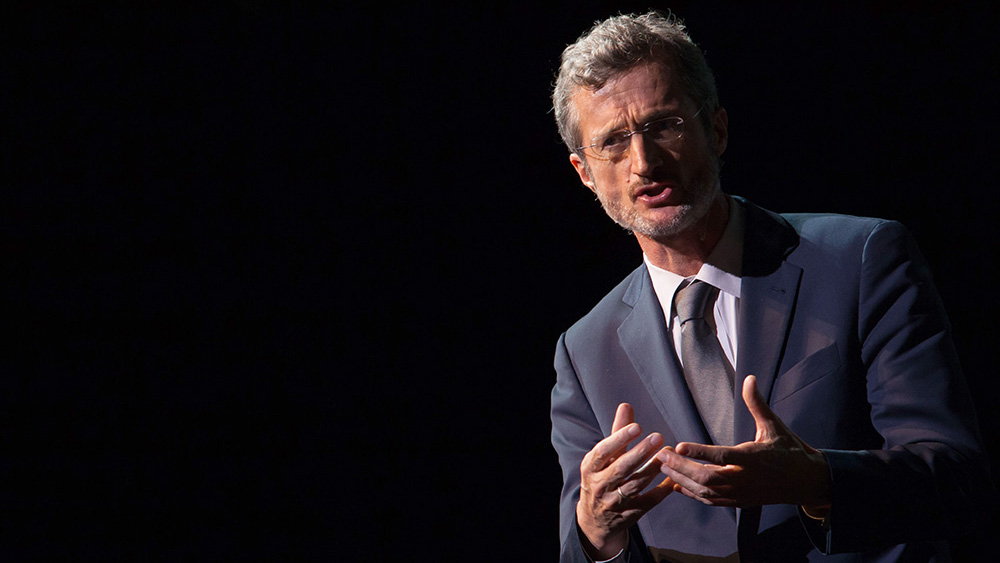 Georg Kell speaks of the role of business in tackling climate change at Sustainia Award Ceremony in Copenhagen. Photo credit: Sustainia
This was a message retold at the Sustainia Awards Ceremony by Georg Kell, Executive Director of the UN Global Compact, who said: "It is possible to make the strong case for carbon pricing." I discussed carbon pricing and the role of business and investors with Kell and other thought leaders at the Solutions Alliance workshop a day before the awards ceremony, where we concluded that the price for carbon would have to be high enough to keep coal in the ground and shift investments to carbon neutral energy sources.
Youth are the main advocates for climate action. Besides having taken to the streets, they are the entrepreneurs who are advancing climate solutions. Sustainia Award winner Wecyclers is a prime example of young leaders embodying the notion of "Africa Rising" with CEO Bilikiss Adebiyi andBukky Adebayo leading the implementation of climate solutions. To advance climate action, it will be paramount to include the young solution seekers of the world.
The Action4Climate filmmakers, who sent in their films from all corners of the world, have made it exceptionally clear that now is the time to act. We screened the Action4Climate grand prize winner The Trail of a Tale by Gonçalo Tocha. The film's message that "there is always a time in history when words become actions" received a resounding response.
I'm left feeling that we are standing on the edge of a great shift towards a world that finally gets serious about climate change. Businesses, investors, individuals are all taking a stand and helping advance the climate solutions necessary to prevent our world from experiencing dangerous climate change.
It's time for "A ... Action, Action, Action." See all the winning films: action4climate.org. Join the debate at #Action4Climate