UPDATE: The 2022 Max Thabiso Edkins Climate Ambassador cohort has been selected; submissions are now closed. Many thanks to all the amazing youth leaders who took the time to apply! To those selected, we look forward to helping you take your climate action to the next level.
Our dear friend and colleague Max Thabiso Edkins was a tireless climate champion, world-renowned for his ability to inspire whole rooms with his bold and passionate vision of a sustainable future. Max brought his knowledge of climate science and policy, innovative storytelling skills, and infectious enthusiasm to Connect4Climate, helping to shape who we are today. With a unique blend of positivity and possibility, along with his signature bowtie, Max made everyone he met excited to help build that better future, and his commitment to including youth as key decision-making partners was unwavering.
To honor Max's legacy and continue his work empowering young climate leaders, Connect4Climate is delighted to be partnering with the Global Youth Climate Network (GYCN), an initiative of the Youth-to-Youth (Y2Y) community of young professionals at the World Bank Group, to launch the Max Thabiso Edkins Climate Ambassador Program.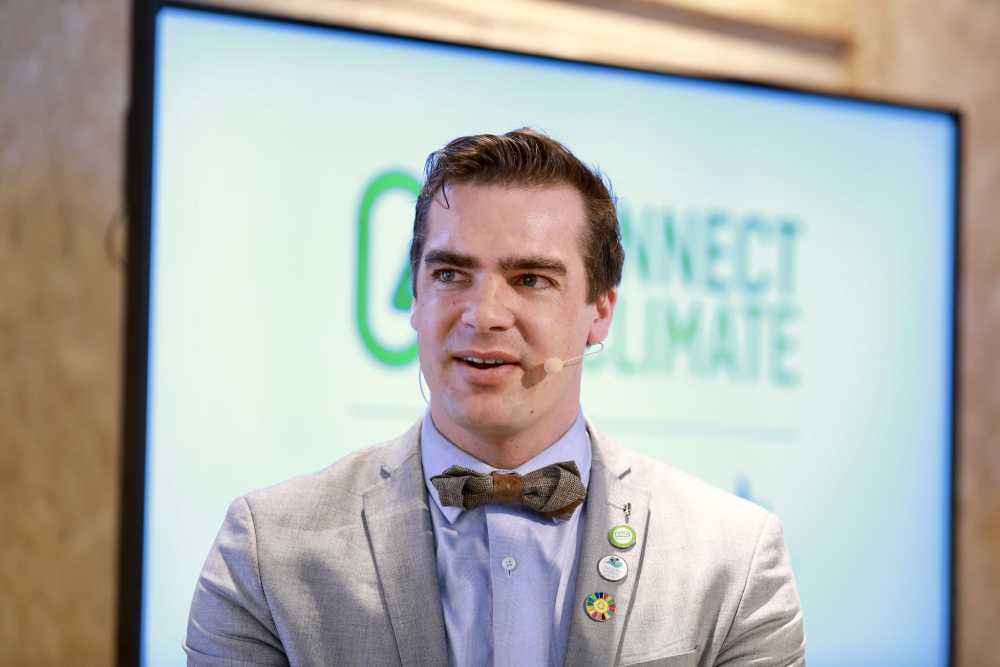 The Max Thabiso Edkins Climate Ambassador Program 2022 offers young applicants (aged 18-35) from all over the world the chance to follow in Max's footsteps across six months of sustained commitment. Those selected to be Ambassadors will take climate action, work towards implementing climate solutions, and launch campaigns in their communities while engaging directly with Connect4Climate and GYCN, broadening their climate knowledge, strengthening their leadership skills,and engaging with GYCN's ever-expanding network of young climate champions.
>> APPLY TO BE A MAX THABISO EDKINS CLIMATE AMBASSADOR <<
Do you have what it takes to be a Max Thabiso Edkins Climate Ambassador? If you're committed to climate action and are looking to engage your community, we would love to hear from you! Apply by the extended January 7 deadline and you could help us bring Max's passion for action to a new generation of leaders. Please read through the detailed eligibility requirements below. You can find out more about Y2Y's Global Youth Climate Network by visiting their website.
On behalf of both the C4C and GYCN teams, we wish you the best of luck and thank you for your interest in a program so close to our hearts!
Eligibility
Applicants must be between the ages of 18 and 35, have strong conversational English language skills, and have reliable access to the internet. Beyond these foundational requirements, applicants will be evaluated on each of the following criteria:
Past and current experience as a youth leader in communities at the local, regional, national, or global level. Demonstrated ability to organize community activities is an advantage.

Passion for climate solutions and sustainable development, and motivation to take action and empower others. We are looking for self-starters willing to take charge.

Scale and strength of the applicant's network and active presence on social media.

The potential impact of the applicant's proposed contributions to their communities and networks.
The evaluation and selection process will also take into account various other factors—such as diversity in age, gender, and geography—to ensure the set of chosen Ambassadors closely reflects the global community.
Expectations
As a participant in the Max Thabiso Edkins Climate Ambassador Program, you will be expected to Learn, Act, Network and Engage.
Learn: learn from World Bank Group experts and knowledge partners on the most pressing climate change issues across various sectors and gain solid leadership skills to inspire and empower others in your communities.
Act: commit to achieve at least three climate actions in your communities.
Network: connect with like-minded youth across the globe to learn, exchange ideas, develop joint initiatives and projects, and amplify your impact.
Engage: join an active and connected Global Alumni Community of Climate Ambassadors upon successful completion of the Program.
This ambassadorship is an awesome opportunity that comes with real responsibilities. In order to receive certificates of completion and be invited to join the Climate Ambassadors' Alumni Community, participants in the Program must:
Commit ~3 hours per week to act in their role between February and July 2022.

Attend the opening orientation and closing sessions (at the beginning and at the end of the Program), weekly online learning sessions (at least four of six) and climate communications and leadership training offered by Connect4Climate.*

Complete at least three climate-related actions in their communities and provide documentation thereof (photos, videos etc.) to GYCN.

Participate in a dedicated Telegram channel where the GYCN team will share programmatic updates and opportunities from its partner network.

Join networking sessions and actively participate in GYCN social media campaigns.
*Before applying for the Program, please make sure your calendar allows you to attend one-hour sessions every Thursday in March and April and commit to participation in the climate communications and leadership training.
Your standout climate actions will be featured directly on GYCN's social media platforms, and all alumni of the Max Thabiso Edkins Climate Ambassador Program will be offered full access to invaluable expert and peer networks as well as ongoing GYCN and C4C educational events. Plus, there is always the possibility of future support for your work on the ground and invitations to co-host climate discussions yourself!