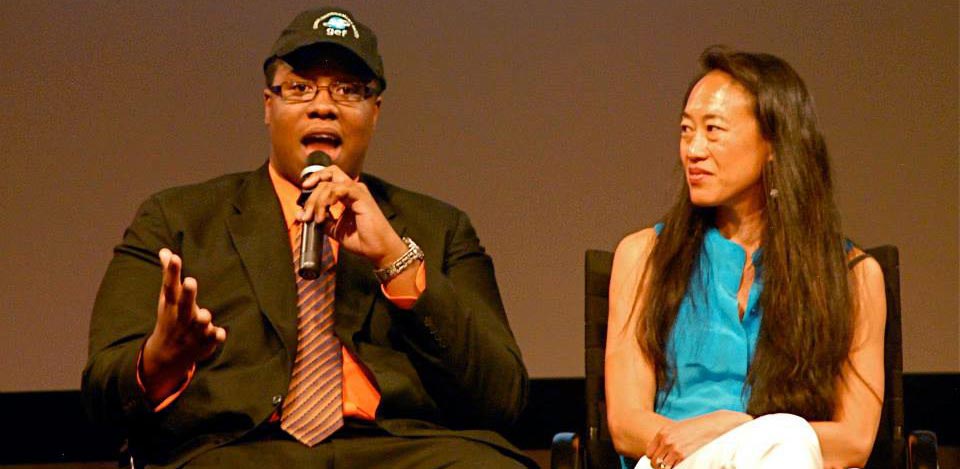 Stephon Gabriel won the Voices4Climate Music Video category with A Changing World. And it is the changing world we are living in that lead this 21-years old entrepreneur to try to inspire others to rise up against climate change.
Born and raised in the tropical Trinidad and Tobago, in the Caribbean, Stephon Gabriel has witnessed the effects of climate change and global warming in his country over the course of his life: "The weather has become more and more unpredictable. We are having major floods in places that never had floods; some parts of our country have been claimed by the sea; the humidity is increasing greatly, as well as earthquakes and heavy rains."
Stephon Gabriel at the Right Here Right Now event, at the World Bank, in Washington, D.C., March 1, 2013.
So, when Connect4Climate launched in 2012 the Voices4Climate competition, Stephon, who, at the age of 19, founded his own production company Gabriel Creative Studios, had the chance to let his creativity inspire others to make the change. "I grew up a music, film and art lover, and it is my goal to change lives using these mediums."
His music video A Changing World was the winner, giving Stephon the opportunity to go to New York City and work with MTV producers for two days. "Being able to go into the MTV editing room and working along with Eren McKnight was a great experience."
"My experience with C4C has been an inspiring one. It has also been an eye opener. It has been an inspiration because of the efforts of so many young innovators all over the world, working hard to make a change; and an eye opener to all the problems that are occurring around the globe. Since then, I have become wiser in my consumption of resources."
Stephon is a Computing and Business Administration student at the University of Southern Caribbean; the CEO, director and producer of Gabriel Creative Studios; and, recently, a partner at D Monster Team Records, a record label whose aim is to help young artists at Trinidad launch their works. He is working, along with his other partners, on an Earth Album, and has put the winning music video on Amazon and iTunes Stores, giving 8% of the proceeds to climate projects. "I now feel like an Ambassador for this movement. My biggest change was my mindset: I see the world differently now, and I try to make those around me aware. If I can inspire just one person, we are closer to making that change."
Stephon's words to the rest of the world about the problem of climate change are: "Our world is at the brink of extinction. Many things that have been done cannot be undone. We cannot change the past but we can change the future. Picture a world where disease, storms and death are prevalent; where islands are consumed by tsunamis and many of today's animals are extinct. This could be your tomorrow; this could be the tomorrow of your children. If this is what you desire, then ignore the signs, ignore all the warnings. But, if you want a better planet for everyone, Connect4Climate and change your lifestyle."
A Changing World by Stephon Gabriel