Timezone: America/New_York

Telling a story through images is an essential way to involve audiences on global issues such as the climate change one. Movies have the power to alter minds and actions, and they are a valuable tool to encourage climate change awareness and action among different spectators.
Connect4Climate and partners invite you for a Facebook live Q&A with Spencer Sharp, filmmaker, and producer of "Three Seconds," the first prize short-film winner of the Film4Climate Global Video Competition.
Bringing the climate change subject to the silver screen is vital to inform and engage young people in the conversation, by sharing climate stories of how climate change is affecting local communities and what are the solutions to tackle this issue.
How can cinema help fight climate change? These and other questions will be discussed this April 4th by Connect4Climate and its partners in a live conversation with the young film director Spencer Sharp. Be part of the live Q&A and find out why climate change became part of Spencer Sharp's work and what should be, according to the filmmaker, the role that cinema has in taking on climate change.
Join us Tuesday, April 4th at 11 AM EST. Leave your questions on the Connect4Climate's Facebook page comment box during the Facebook live.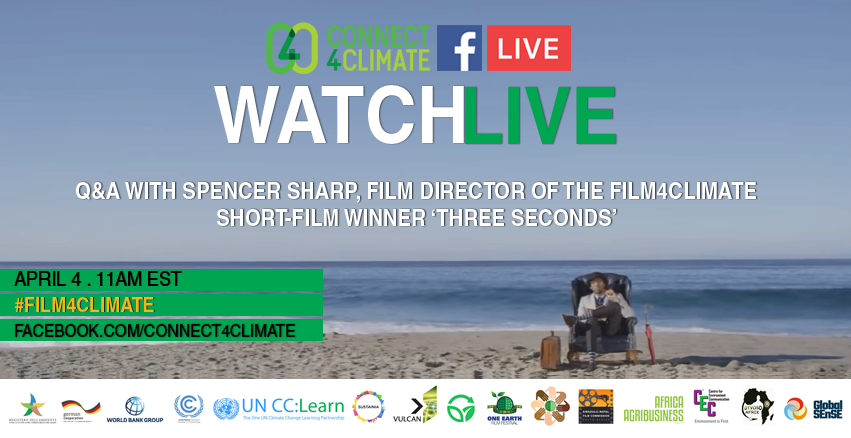 Spencer Sharp Bio
Spencer Sharp aka Dispencery7 is a film director and rapper whose main goal is to continue pushing out content that makes people's hair stand on end. Whether it is through motivational videos that promote excitement and change, or films and songs that make you cry and rethink life, Spencer's intentions are always to increase positivity; to take the audience on an emotional journey through a simple and random piece of media you wouldn't expect to be powerful. Spencer draws his inspiration from his teammates as well as extraordinary directors like Fernando Meirelles and rappers/political activists like Tupac and Immortal Technique.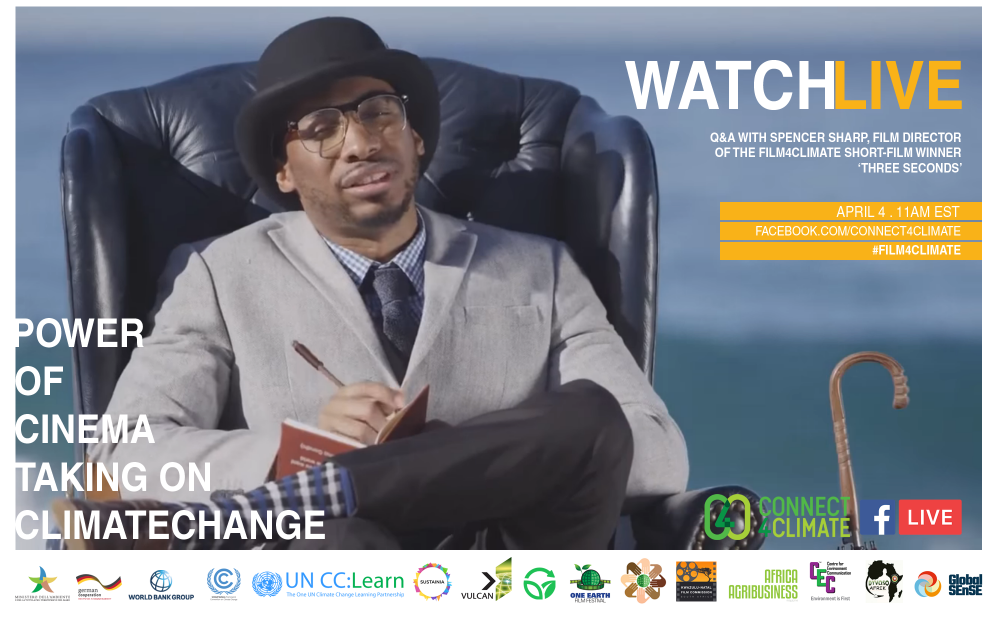 About Three Seconds
Three Seconds is a short motivational piece to get younger and older generations alike to stand up for trees and a clean future. This spoken word piece by artist Prince Ea was designed to put into perspective our existence on earth's timeline and to excite viewers for the fight against the status quo that too often disregards Mother Nature.