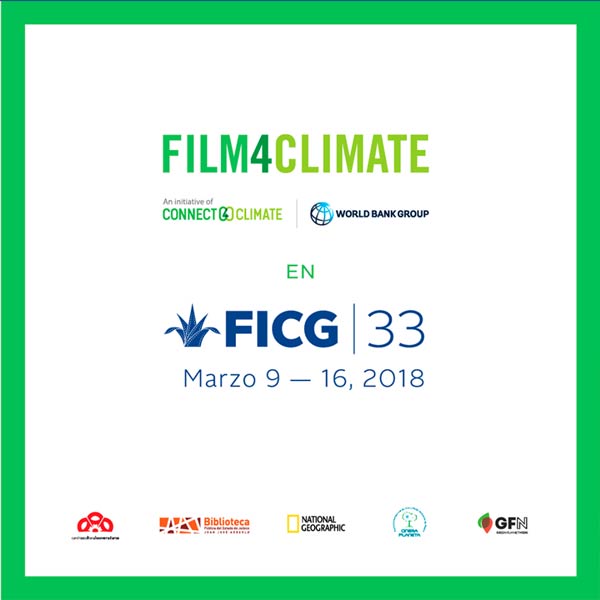 Film4Climate
|
Communication
|
Technology
|
C4C News
World Bank Group's Connect4Climate and the Guadalajara International Film Festival (FICG33) present Film4Climate Section and Post-Production Award
Global climate communications arm of the World Bank Group Connect4Climate program dedicated to advancing environmental sustainability and the inclusion of social consciousness messages in film returns to support Festival.
Washington, D.C. — March 9, 2018
— Connect4Climate, the World Bank Group's global partnership program on climate change communication, is honored to continue the long-standing partnership with the
Guadalajara International Film Festiva
l (FICG33) to bring social and environmental awareness to the film industry.
From March 9 to 16, FICG33 and
Film4Climate
, in partnership with the
Muestra de Cine Socio-Ambienta
l, the socio-environmental film program launched 10 years ago by the
University of Guadalajara Cultural Center
, will present a selection of environmental and climate movies to the industry and public attending the festival, with the aim of encouraging positive climate action.
The program for this edition includes a special 
Film4Climate Post-Production Award
 presented in partnership with Laser Film. The prize will recognize a film that focuses on one of the 
17 Sustainable Development Goals
(SDGs), the United Nations universal call to action to end poverty, protect the planet and ensure prosperity for all. The winning project will be awarded a full post-production program at Laser Film's facilities in Rome, Italy. This award is presented in loving memory of
Donald Ranvaud
, Film4Climate's Creative Producer, and
Lucia Grenna
, founder of Connect4Climate.
Giulia Braga, Program Manager for Connect4Climate, states, "It is with the utmost pride that we continue our longstanding partnership with the Guadalajara Film Festival. Film is perhaps the most uniquely effective medium for amplifying this most urgent issue of our lifetime: the climate challenge. The films that we are presenting at FICG33 this year represent the quintessential bonding of artistry and social consciousness. We could not be more proud to dedicate a special award this year to celebrate the life and legacy of Film4Climate's Creative Producer and our dearest friend Donald Ranvaud, and Lucia Grenna, founder of Connect4Climate."
Ivan Trujillo, Director of FICG, adds, "The Film4Climate program allows our festival to bring our audience a quite special focus on social and environmental issues in the form of great cinema that is artistically relevant and vital to advancing our culture and society." He continues, "More than ever, we need the voices of great artists and global youth to amplify the challenges we face collectively. We are honored to continue our longstanding and deep collaboration with Film4Climate."
The Film4Climate section at FICG33 will include screenings of Jean Michel Cousteau's 3D spectacular "Wonders of the Sea," "Jane", a revered celebration of the life of Jane Goodall from Brett Morgan, "Lorello and Brunello," a tale by Jacopo Quadri of sheep farmers conserving the best of traditional agriculture in Tuscany, and a powerful reflection on work, nature and time, "Poisoning Paradise," a strong expose of pesticide poisoning in Hawaii from Keely Shaye Brosnan, and "Cuatro Ciénegas" by Mexican director David Jaramillo. The section also includes "La Tía Rica" by Colombian director Germán Ramírez, running in the official competition.
The festival will also host the world premiere for "Another World Is Possible," a comprehensive and spellbinding analysis of the international youth climate movement as it labors over a 10-year period to allow the voices of young people living on the frontlines of climate change to be heard alongside those with the power to decide over the future of the world. The film was conceived in 2008 by director Slater Jewell-Kemker, an intrepid and determined 14-year-old inspired by Jean-Michel Cousteau to carry the baton of environmental concern forward, produced with assistance from Film4Climate, and many other movies, followed by dedicated Q&A sessions with the filmmakers.
More information and the detailed program are available here
About Connect4Climate
Connect4Climate, also known as the Communication for Climate Change Multi-Donor Trust Fund, is the World Bank Group's global partnership program dedicated to climate change communication. It is supported by the Italian Ministry of Environment, Land and Sea and the German Federal Ministry for Economic Cooperation and Development, along with more than 400 partners including civil society, media networks, international organizations, academic institutions, youth groups and the private sector. Film4Climate is the official Connect4Climate initiative dedicated to greening the silver screen, with more than 160 partners from the global film industry. For more information, and to download the Connect4Climate overview report, please visit: connect4climate.org
Media contact
Julia Pacetti, julia@jmpverdant.com, (917) 584-7846