Our central question:
Could sports, especially basketball, be used to reach children and youth with the aim to promote education and foster a multicultural environment for social inclusion?
IMPACT STORIES
Every year, we discover natural leaders - students, entrepreneurs, and athletes. They dream to build their own future and we do our best to support them. There are some of our young leaders, symbols of hard work and perseverance:
Alphonse is a young and bright Togolese who participated in our activities in the village of Kpalimé from 2013-2014. Despite facing many obstacles, in particular the absence of a father, he never gave up. We recommended him to the African Leadership Academy (ALA), a school of excellence in South Africa. After two years at ALA, he was accepted by the University of Rochester in the United States where he is studying electrical and computer engineering.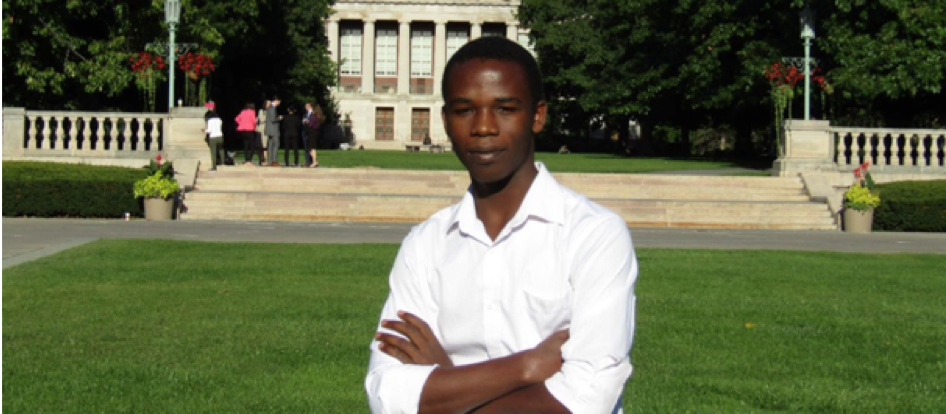 Freddy is one of the most gifted young basketball players we've met in Togo. In 2014, we helped him to spend a week at the SEED (a basketball academy in Senegal). Then we sent him to a NBA camp in Burkina Faso. The NBA is the pre-eminent men's professional basketball league in North America, and is widely considered to be the premier men's professional basketball league in the world. A few months later, Freddy received a scholarship to pursue his dream at Liberty Christian School in the United States.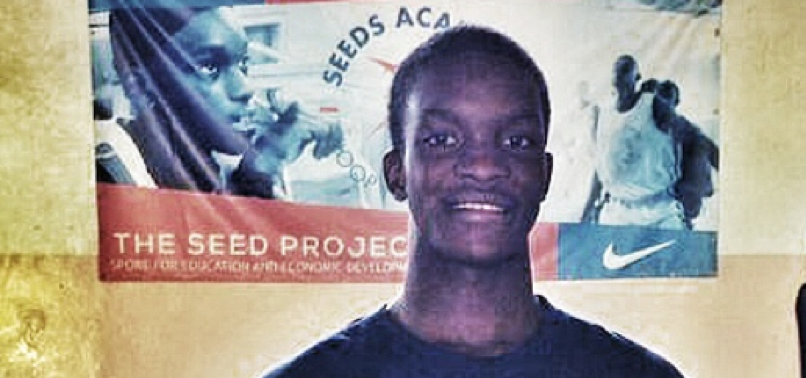 Mariette was orphaned by her mother and not recognized by her father. We met her in Lomé. She was captain of an under-18 (U18) Togolese national team that LYSD initiated in 2015 in partnership with the Togolese Basketball Federation. That same year, we provided her with a scholarship for her last year in high school, and she is currently studying English at the University of Lomé.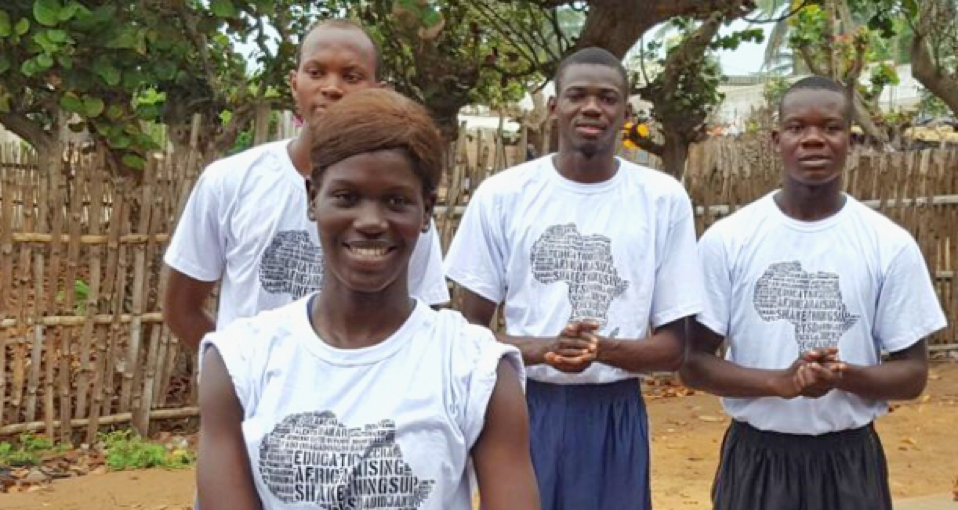 Flora is a 17-year-old Ivorian girl from Yopougon who left school in seventh grade because her mother was not able to pay her school fees. She discovered basketball in 2015, and the court became an escape and a way to make friends. She has been enrolled in the U18 national team and has found the courage to start taking French lessons. We gave her a scholarship, and she subsequently joined our pool of young educated.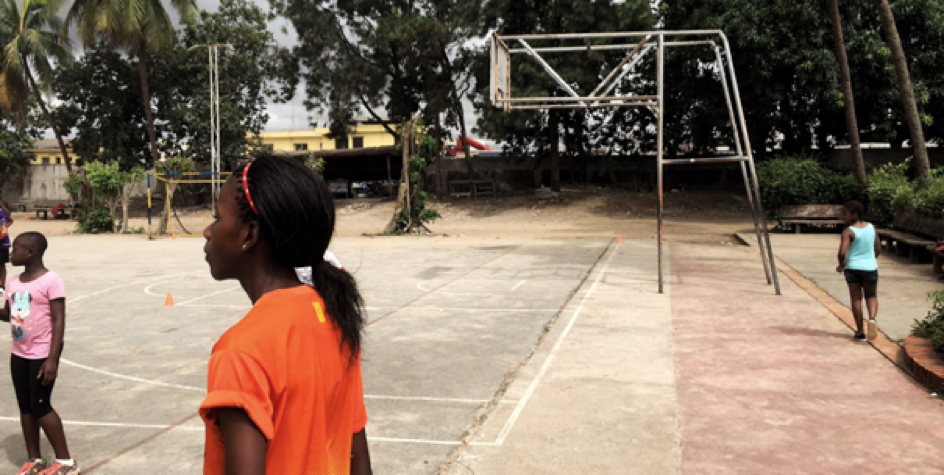 Nono is in high school in Lomé. We offered her a scholarship this season. A member of our U18 selection, she became a young educator in our organization. We count on her leadership and strong values to spark interest among young girls.
Merveille, from the village of Kouvé, entered high school when she was just 13 years old. A natural leader, she does not hesitate to raise her voice to denounce discrimination, especially from the boys in her village. We offered her a scholarship this year, and we believe in her capacity to become a spokeswoman in her community.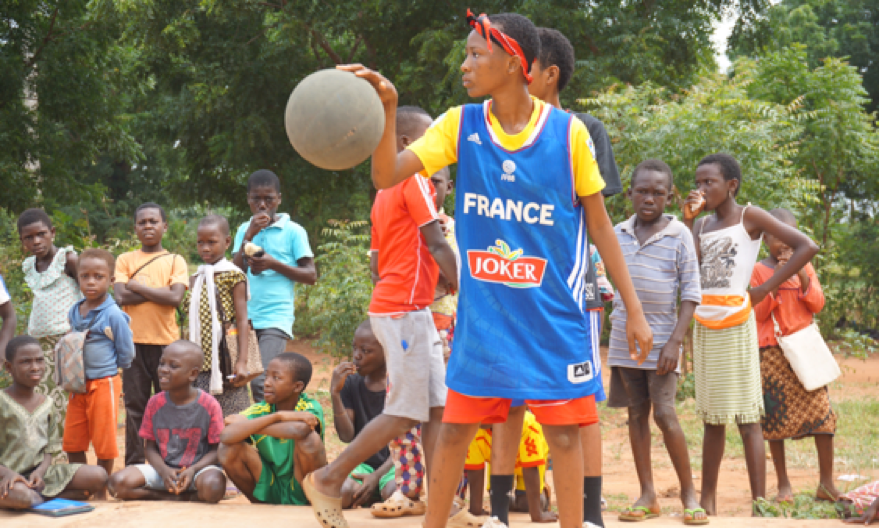 We are honoured to witness these children and youth growing day after day, both on and off the court. 
Who We Are
Leading Youth, Sport and Development (LYSD) is a non-profit organization whose mission is to promote education and create a network of young leaders from different horizons.
With over 50% of its population under 25, we believe that Africa's youth is the priority in the development process of the continent. This part of the population faces many social challenges – such as unemployment, ethnic cleavages, inequalities, among others – that often slow the development of the continent. Their vulnerability is increasing, especially in remote locations where they often feel isolated, with little hope of economic or social mobility. We believe that every person strives for lasting peace and can contribute to easing tensions, and the best way to enable this is to raise awareness of the importance of coexisting at an early age.
Sport speaks to youth in a language they understand. We envision basketball as a great tool to bring together boys and girls alike from different social backgrounds and foster social inclusion and cohesion. Since LYSD launched in March 2013, we have developed the MiLéDou program and organized events for approximately 3,000 participants aged six to 20, one-third of whom were girls, from 15 localities in Togo and Ivory Coast.
LYSD has been registered in November 2012 in Paris (France). LYSD Togo has been created in Lomé in March 2013, and since May 2016, a sister program "LYSD MiLéYi" was set up in Côte d'Ivoire.
Partnerships
We developed partnerships with NBA Africa, the Togolese Ministry of Sports, the French Ministry of Foreign Affairs, the International Organization for Migration (IOM), Cities Alliance, the Ecobank Foundation, the Robert Abdesselam Foundation, and Canal+ Afrique. These organizations reached out to LYSD wishing to learn from our expertise in developing sports programs to contribute to the education and development of Africa's youth.
The media has also been a key partner in our development. Television (Canal+ Afrique, Africa 24, among others); radio (local and Radio France International - RFI); the Internet (Abidjan.net, Africa Top Sport) and press coverage (Forbes Africa) highlighted our events and gave us the opportunity to showcase our activities, increase our visibility, and contribute to changing mindsets.
Data
LYSD has a total of 30 collaborators (24 in Togo and six in Ivory Coast), including five full-time employees in charge of coordination and 25 part-time educators who work actively with the children. Our annual budget increased from 30,000€ to 100,000€ for the season 2016-2017, and we forecast a budget of 200,000€ for the season 2017-2018.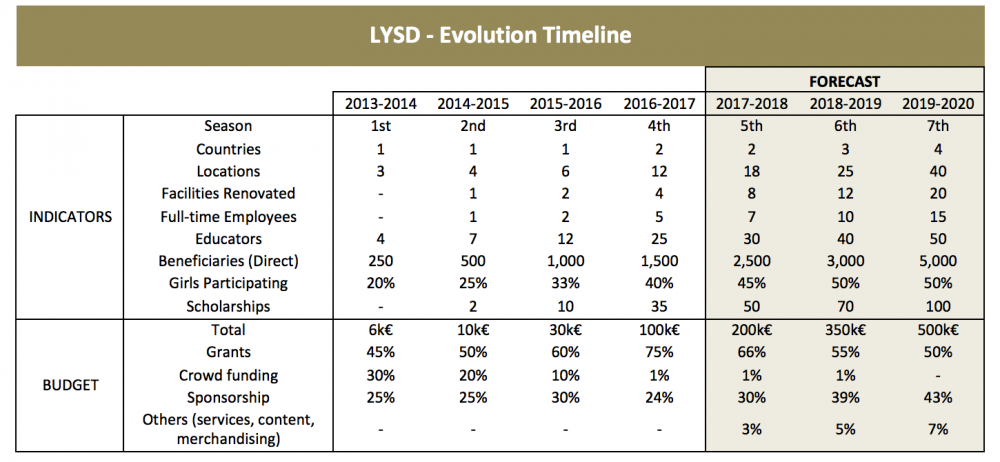 The MiLéDou program
Meaning "we are together" in the Mina language, a southern Togolese dialect, MiLéDou is our flagship program. It runs from October to June each year, engaging youth aged six to 20 in various localities throughout Togo and Côte d'Ivoire. Through MiLéDou, we use basketball as a mean to attract and bring together the youth to then develop a social component of awareness raising, of listening, and of support. We also use this program to foster social insertion and to identify talents.
The MiLéDou program has been underway for three years in several towns and villages in Togo, and it began its first season in Côte d'Ivoire in 2016. We estimate the number of kids who will directly benefit from our actions in the 2016-2017 season to be between 1,200 and 1,500 (40% girls and 60% boys). This season, the youth had two practices each week (Wednesday afternoons and Saturday mornings).
MiLéDou relies on a network of local educators for the implementation of weekly basketball sessions during the season. Educators are trained to organize basketball practices and mentor each child in the group. Our basketball sessions are open to all youth, and a desire to learn the game is our only selection criteria.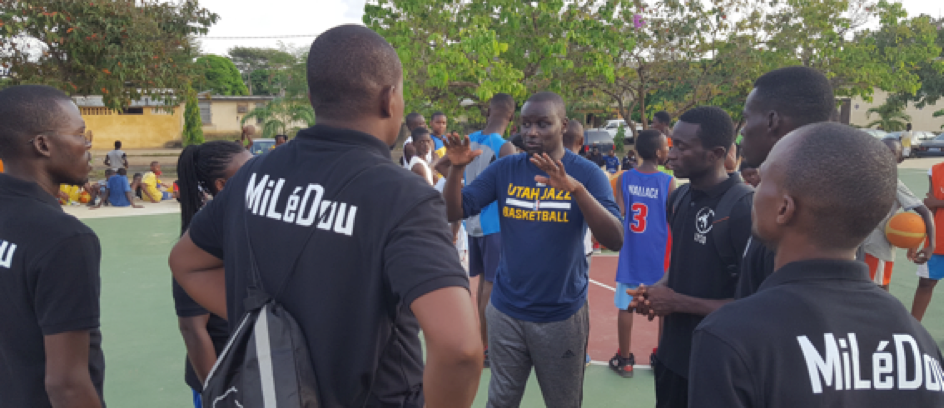 Training Session with Babacar Sy, Utah Jazz (NBA) international scout
By following children throughout the entire school year, local educators gather critical information such as who goes to school and who does not, who demonstrates potential for future educational opportunities, who suffers from poverty, and who possesses athletic talents. We additionally conduct surveys every year to know more about the children's preferences, such as their interests and objectives. 
Basketball Promotion Week
MiLéDou has several highlight events throughout the year. The most emblematic event of the season is Basket Promotion Week (BPW), a basketball promotion tour.
BPW is an opportunity to promote the game of basketball among youth. We invite experts to run basketball camps in various cities. To close the BPW, we usually organize a tournament that gathers youth from various towns and villages.
During the BPW, we collaborate with sponsors to build or upgrade hoops and courts. Over three years, two construction and seven court renovation projects were carried out.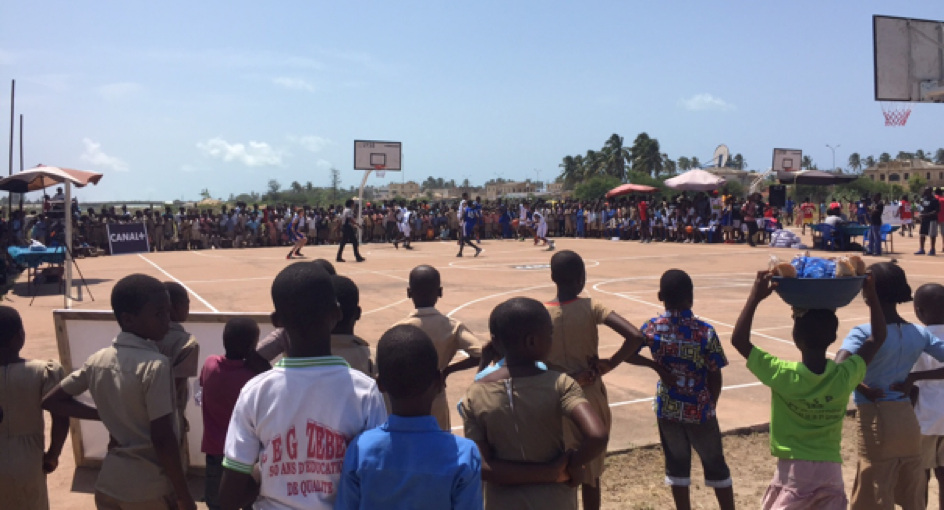 BPW 2016 – U15 Tournament in the City of Aného (Togo)
Where We Are
We collaborate with educators in 10 cities and villages of Togo, with special emphasis placed on reaching youth outside of the capital city of Lomé. From north to south, we are active in Kara, Bassar, Sokode (Togo's second largest city), Atakpamé, Kpalimé, Notsé, Kouvé (close to Tsévié), Vogan, Aného, and the capital and largest city, Lomé.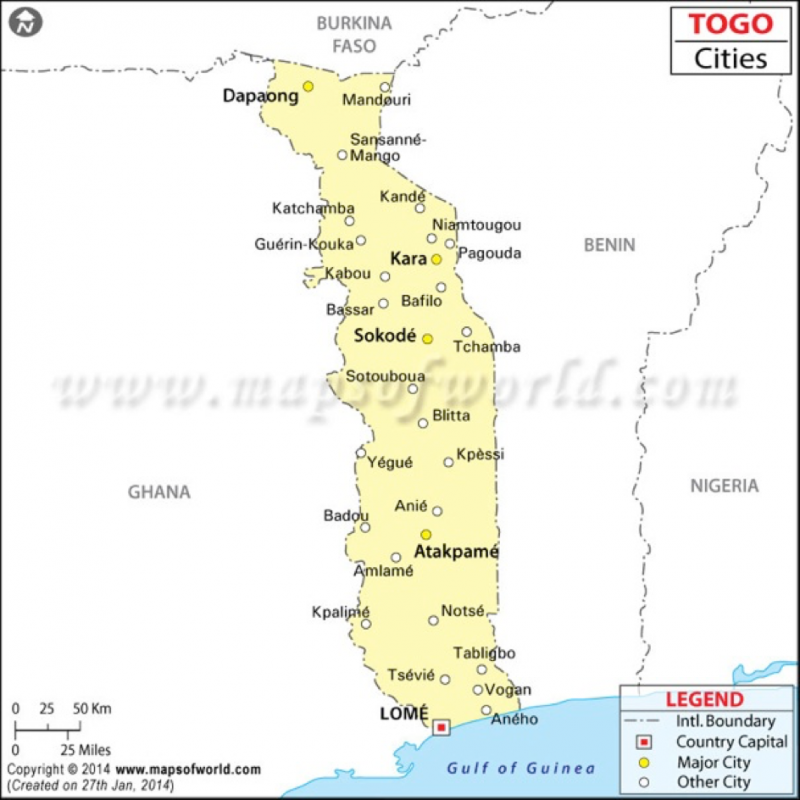 In Ivory Coast, we are active in Yopougon, the largest district of Abidjan, and Bouaké. In collaboration with the International Organization for Migration (IOM), the Football Player Foundation Didier Drogba, the Yopougon Town Hall, Cities Alliance and the French Embassy, ​​LYSD is setting up a program from November 2016 to May 2017 to contribute to the social inclusion of disadvantaged youth. This includes youth who are returning or have already returned due to migratory flows, and many of them continue to struggle to integrate within the municipality of Yopougon.
Bouaké is the second largest city in Côte d'Ivoire with a population of 536,000. In collaboration with the Town Hall of Bouaké, we set up a pilot project in city. We are planning to extend our program four other cities in Côte d'Ivoire before the end of 2017.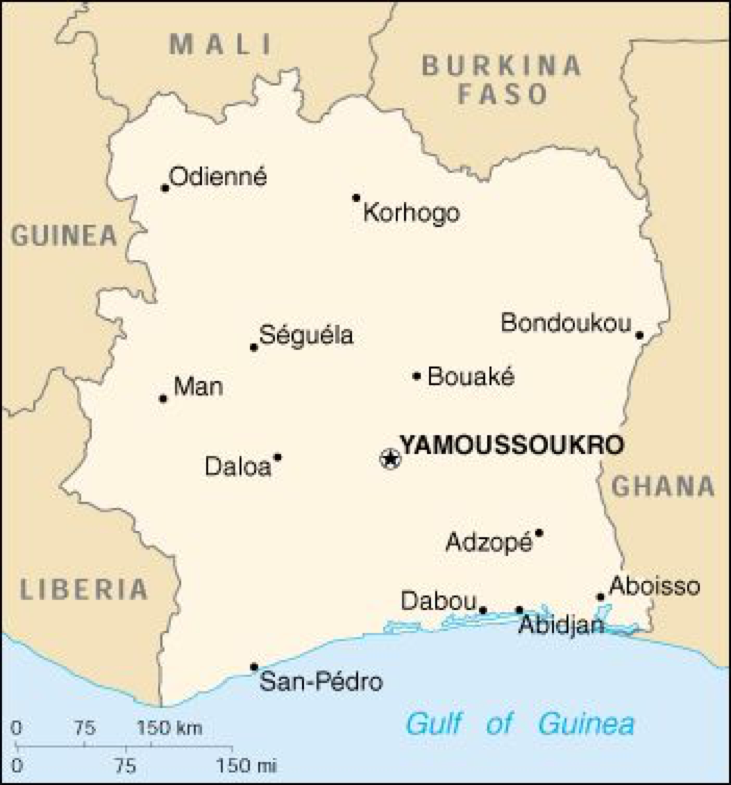 Accomplishments
With MiLéDou, we are creating a momentum. In these two low-income countries – where monthly minimum wages are around 35 000 FCFA (50€) in Togo, and 60 000 FCFA (90€) in Côte d'Ivoire, we offer part-time job opportunities to local educators. For the 2016-2017 season there are 25 in our organization.
Thanks to their tremendous work, each season we are able to identify young talents among our participants who become aware of their ability to play a key role in the development of their country. We support the most deserving in many ways, such as through scholarships, integration in excellence schools, internships, and basketball camps. Then they move on to become role models in their communities and inspire other children and teenagers.
From an academic standpoint, we raised funds to give 47 scholarships. Five of MiLéDou's brightest young minds have joined prestigious post-high school institutions in South Africa and in the United States.
From a sport standpoint, 11 of our most determined players have participated in NBA camps in Africa, one of which is now in a preparatory school in the United States. Through LYSD activities, Togo now has national youth boys' and girls' basketball teams.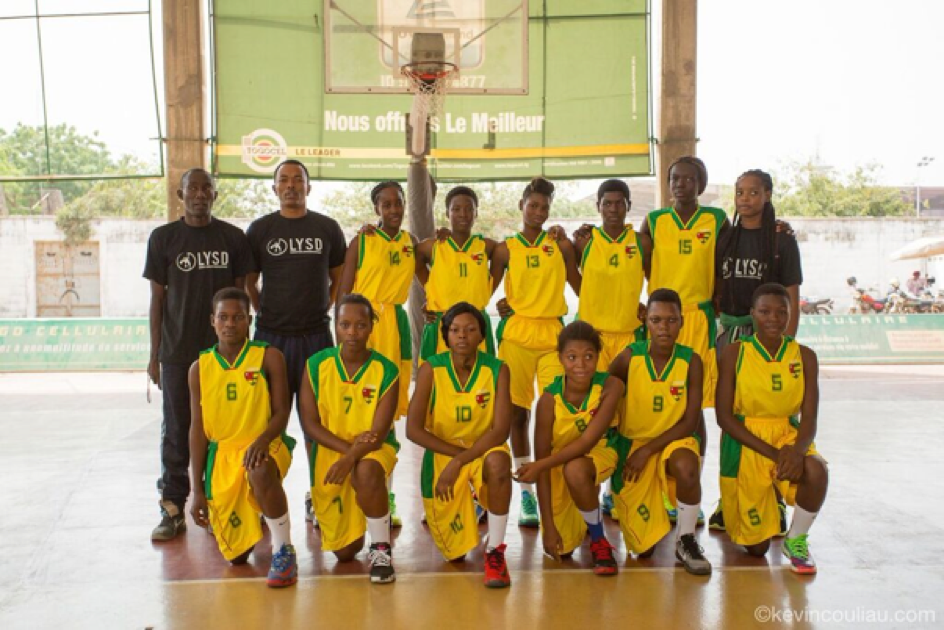 Togo U18 National Team
Founder
Jean-Luc Kossigan AGBOYIBO is Founder and President of Leading Youth, Sport and Development (LYSD). He holds a Bachelor's degree in Applied Mathematics for Social Sciences from the Sorbonne University in Paris, France, and a Master's degree in Management with a major in Finance from IAE Paris - Sorbonne Graduate Business School. He also completed a specialization year in the management of sport organizations at AMOS – Sport Business School.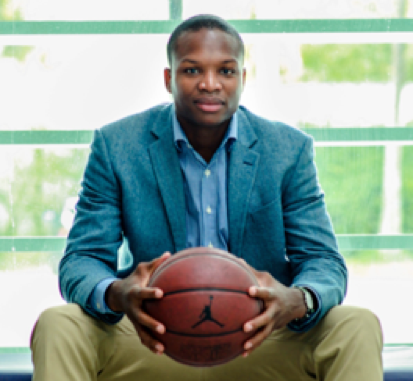 After graduation, he worked at Havas Sports & Entertainment, Africa Top Sports, and Canal+ Afrique. During this time, he became convinced that the development of the sports industry in Africa relied on decision makers' capacity to implement activities with a social impact in villages and small cities. In 2012, he decided to lead his own initiative, and the Leading Youth, Sport and Development (LYSD) was born.
Jean-Luc came from a Togolese family of 17 children (13 sisters), and was raised by his mother and elder siblings. Being around women helped him understand the importance of women in society. As a teenager in 1999, he left Togo for France, where he experienced first-hand how difficult integration can be. After graduation, recent laws against foreigners in France prevented him from acquiring a work visa in the country, which opened his eyes to global inequalities.
For all of those reasons, LYSD is about more than just basketball and sport. Jean-Luc is convinced that sport can contribute to creating inclusive environments for social issues. After managing LYSD for three years while maintaining full-time jobs, in November 2015 he began devoting himself full-time to managing and developing the organization.