Last summer, a group of youth from Fiji, Palau, Timor-Leste, Seychelles, Mauritius, Singapore, and Barbados joined Peace Boat to take part in the second edition of the Ocean and Climate Youth Ambassadors Programme. During the programme, Peace Boat filmed a short documentary directed by the social impact filmmaker, Ryan Carl. This 6-minute video, 'The Ocean and Climate Youth Ambassadors – A Short Film by Peace Boat' aims to contribute to the Talanoa Dialogue for Climate Ambition, a process to take stock of collective efforts to reduce emissions and build greater resilience, in line with the long-term goals of the Paris Agreement.
Through its 35-year history of conducting educational voyages, Peace Boat has visited many small islands states organizing study and exchange programmes. During this time, Peace Boat has witnessed first-hand how these small territories on the front line of climate change have experienced a degradation of their coastal areas. In 2017, Peace Boat began the Ocean and Climate Youth Ambassadors Programme to bring youth leaders from countries which are members of the Alliance of Small Island States (AOSIS) to travel onboard our ship, engaging in capacity building and bringing their message to citizens and government representatives through the voyage.
After the success of the first edition, which brought together youth from Fiji, the Marshall Islands, Kiribati, Seychelles, Maldives, Trinidad and Tobago, and Belize, the second edition was organized in June and July 2018. The third edition will take place in May-June 2019. Peace Boat's Ocean and Climate Youth Ambassadors Programme was launched at the United Nations Ocean Conference and recognized by the COP23 Presidency Secretariat as an Endorsed Event of COP23.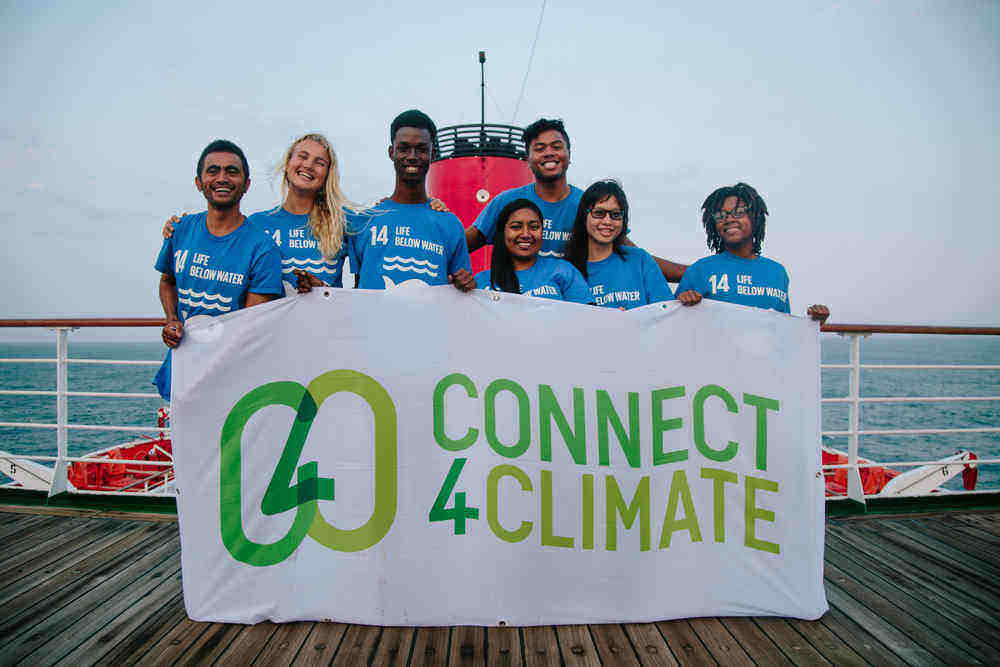 The Ocean and Climate Youth Ambassadors Programme participants took a photo with the Connect4Climate flag while on board the Peace Boat.
Building momentum and engaging stakeholders in the countries visited
In 2018, the second edition of the programme started in Stockholm, Sweden. The young leaders engaged with local, regional and national governments, civil society and the scientific community taking part in awareness-raising and outreach events in ports visited, including in Copenhagen, Denmark; Bergen, Norway; Reykjavik, Iceland; Halifax, Canada and concluding their voyage in New York, US. Participants gave testimony of their experiences and the impact of climate change and marine degradation on their communities. Music, dance, art, and spoken word were incorporated into the activities in port for wider appeal and dissemination via social and traditional media, both as a call to action and to build momentum for action for the climate and ocean. Throughout the programme, there was an emphasis on possible solutions to the crisis as the youth shared about inspiring initiatives in their own countries at the local and government level. They learnt from local projects and efforts for climate action and marine protection in the countries they visited. The short documentary outlines some of the activities in the programme.
The short filmed by the social impact filmmaker Ryan Carl is available now on
Vimeo
.