This is a dedicated article on the topic of Innovation and Entrepreneurship. Adjoining resources emphasize innovation and entrepreneurship as drivers of adaptation and resilience. This article is a part of the #Youth4ClimateLive Educational Toolkit.
Tackling the climate crisis and creating a sustainable future depend on groundbreaking innovation across all sectors: clean energy, financial tools, business models, policy ideas, low-carbon technologies, and more. Together, we can accelerate the transition to a green economy in a way that leaves no one behind.
The climate challenge presents the next generation with an incredible opportunity to focus their knowledge on innovation and becoming 'green' entrepreneurs. Many are already doing just that and finding the response to presenting new approaches for these problems that are both open minded and fully supportive. The thirst for creative ideas is never quenched and there are multiple chances to share original concepts and innovations with a variety of competitions, hackathons, forums and pitch hubs all over the world.
Urging institutions, corporations and entrepreneurs to lead the change with new climate-positive business models is a job for everyone. Young people are particularly positioned to accelerate this transition as they are more open to out-of-the-box thinking and will reap the benefits of a green economy for years to come. Whether it's through founding their own start-ups, demanding sustainable products from their favorite brands, inventing new technologies, or calling on their leaders to implement policies that incentivise carbon neutral business models, young people have an important role to play.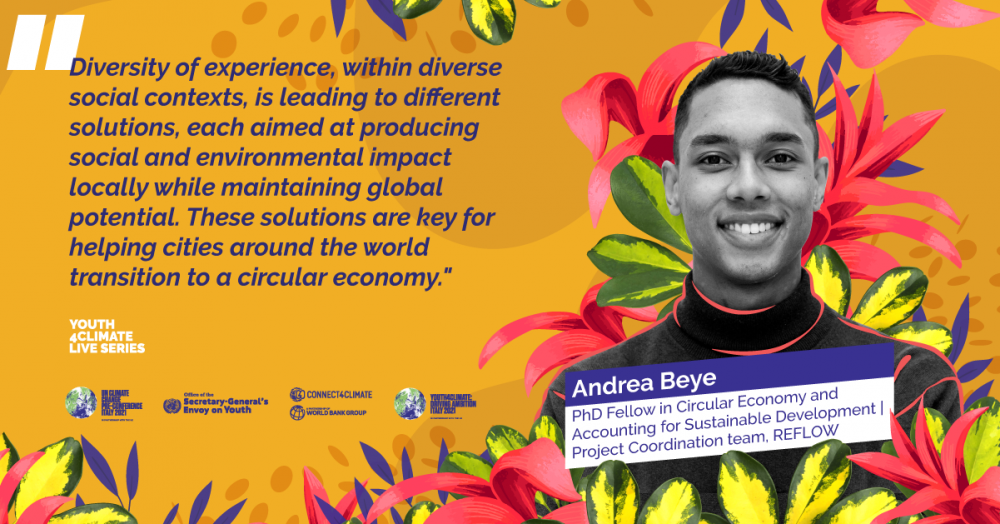 Innovation powers economic competitiveness, creates jobs, and helps ensure that technology and manufacturing enterprises continue to contribute social and economic value to the global economy. To learn more about transformative and innovative action on climate change, you can plan to get involved in the 2021 Innovate4Climate summit, or get inspired by last year's conference in Singapore here. Innovate4Climate, hosted by the World Bank Group, brings together business, finance, policy and technology leaders to accelerate action on financing climate-smart development.
Rapid application of new low impact technology together with support for education and training is crucial for vulnerable regions and communities around the world to enable them to take advantage of the latest innovations and advance sustainable development. It's important that the next generation will have the skills needed to make maximum use of a low-carbon economy. Take a look around your own region - how are people in your community thinking outside the box when it comes to tackling climate change? Tell us about green innovation and entrepreneurship that you discover in your own area on Twitter and Instagram. If you're interested in learning more about the different ways that people around the world are innovating for climate action, check out some of the resources below.
Banner image courtesy of StartupStockPhotos, Pixabay.
Learn More: Encouraging Ideas
Get Your Feet Wet

Dive Deeper
Learn More: Young Entrepreneurs
Get Your Feet Wet

Dive Deeper

Explore: the Greenpreneurs program and apply to be a member of the latest Greenpreneurs cohort.
Learn More: Community Applications