June 28, 2016 - 9:00am to June 29, 2016 - 3:30pm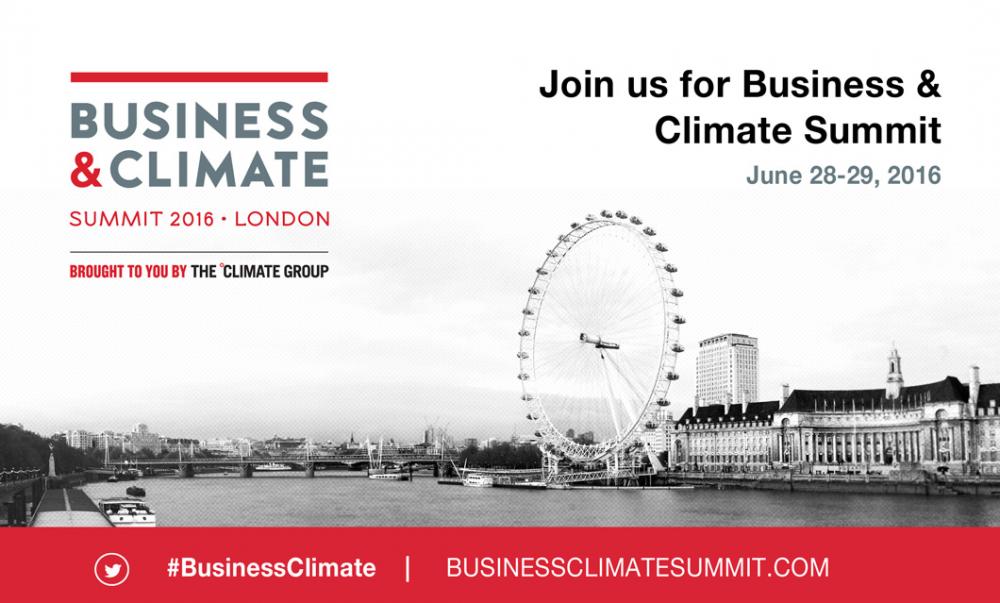 The Business & Climate Summit is the leading annual forum for businesses, investors and policymakers on climate action. It is where business and governments come together to agree a roadmap for reaching net zero emissions over the next half century. It demonstrates how low carbon strategies are good for business and good for growth – and builds the partnerships needed to scale up and accelerate the low carbon transition.
2016 is the turning point. In the aftermath of the Paris Agreement we are on an irreversible path to a net zero carbon economy. However, to keep the average global temperature increase well below two degrees, we must act faster and more decisively than ever. It's no longer just about commitments, it's about real climate action.
Business holds the key to meeting global carbon reduction targets; and collaboration between business and government is critical to success. Forward thinking companies with climate change at the heart of their business strategies will reap the benefits of high return investments while those that don't will face greater risks – from policy, investors and climate change itself.
The 2016 Business & Climate Summit will bring together leaders from business, government and finance to deliver real climate action. Building on the overwhelming success of last year's event which boasted some of the world's most influential CEOs and policymakers, the Summit will set out a roadmap for how business, in the short, medium and long term, can take advantage of a swift transition to the net zero carbon economy.
Convened by The Climate Group and We Mean Business, supported by International Chamber of Commerce, United Nations Global Compact, WBCSD and EPE - Entreprises pour l'Environnement, with support from the World Economic Forum Global Project on Climate Change - organizations working with millions of businesses around the world - Business & Climate Summit takes place at Guildhall in London on June 28-29, 2016.
Here you can download the complete program and to get more information about the 2016 Business & Climate Summit visit: http://www.businessclimatesummit.com/
The Role and Responsibility of Creative Industries on Climate Action
Connect4Climate will be at the Business & Climate Summit leading a discussion on "The Role and Responsibility of Creative Industries on Climate Action" on June 29 - 10:45 to 12:45 BST. See the full program here.
During a public interview with Al Gore at the 2015 Annual Cannes Lions Advertising Festival, Sir Martin Sorrell, Chairman of WPP Group of advertising agencies offered to stand arm-in-arm with heads of rival advertising networks at Cannes Lions 2016 if all will pledge solidarity with the climate change movement. At the 2016 Annual Cannes Lions Advertising Festival, the United Nations Secretary-General Ban Ki-moon announced the launch of a first-of-its-kind initiative developed among the six largest communications businesses globally in support of the Sustainable Development Goals (SDGs): Common Ground.
The World Bank's Connect4Climate Campaign in partnership with the Business Climate Summit and Maitland Green/Havas is staging a thematic discussion on "The Role of Creative Industries in Sustainability and Climate Change" with the objective of perpetuating the engagement of media, entertainment and advertising sectors on climate action.
The focus of our conversation is essentially on the corporate social responsibility of the creative industries (media/entertainment/advertising) on sustainability and climate change. The intention is to increase the onus on creative industries to engage on climate change and SDGs through 3 key area of their business:
addressing sustainability and climate with clients and corporate brands (in the case of commercial media);
helping to influence consumer behaviors (on sustainability & CC);
collaborating with media/entertainment sectors on climate and sustainability communication.
Program
11:00am          Introduction by Lucia Grenna, Program Manager, Connect4Climate, World Bank Group
Moderator – Jonathan Charles, Managing Director, Communications, EBRD & Former BBC Anchor
            Keynote
Sir Martin Sorrell, WPP Group of Companies (20 min)
11:20am   
PART 1: What is the role of media in (1) addressing sustainability and climate with clients and corporate brands; (2) helping to influence consumer behaviors; (3) collaborating with media and entertainment on climate and sustainability communication (moderated conversation 25 mins followed by 15 mins questions from the floor)
Kate Garvey, Co- Founder, Project Everyone
Andy Ridley, CEO Circle-Economy, Former Executive Director, EarthHour Campaign, WWF
Erin Lyon, Exceucutive Director, CSR-Asia
12:00pm                                
PART 2: What is the role and responsibility of the media and entertainment sectors in social advocacy? (moderated conversation 25 mins followed by 5 mins questions from the floor)
Beth Garrod, Director, Social Responsibility, Viacom International Media Networks
Caroline Nursey OBE, Executive Director, BBC Media Action
John Momoh (OON) Founder & CEO, Channels Television (Nigerian-based African 24 Hour News Channel)
Simon Spanswick, CEO, Association of International Broadcasters
12:30pm               Closing Remarks, Maitland Green