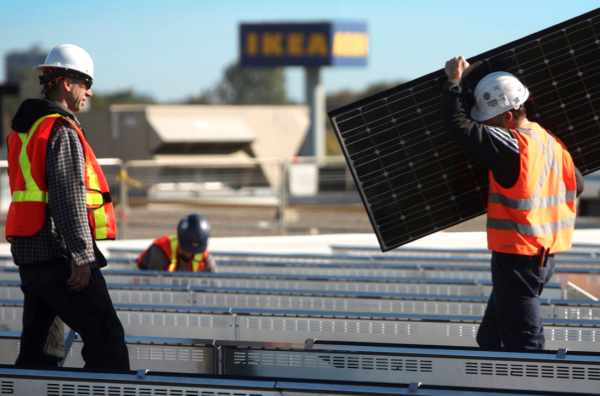 Innovate4Climate
|
Learn
|
Energy
|
Technology
|
Partner News
Climate change is one of the world's biggest challenges and we need bold commitments and action to find a solution, according to the global home furnishing company IKEA Group. The company is demonstrating remarkable leadership through its own actions – by committing to go 100% renewable, producing as much energy from renewable sources as the total energy it uses in its buildings and, through the IKEA Foundation, committing hundreds of millions of dollars to help the most vulnerable communities build resilience to the impacts of climate change.
Steve Howard, IKEA Group Chief Sustainability Officer, says, "action on sustainability and climate change is driving innovation in the way we power our stores, the material we use and the products we offer. It's about staying relevant for our customers, making our business fit for the future and ensuring we have a positive impact."
IKEA's direct operations are already being disrupted by extreme weather. For example, in 2012, Hurricane Sandy seriously affected co-workers and communities in the USA and forced them to temporarily close nine IKEA stores, leading to losses in revenue of USD 9 million (EUR 7.2 million). Some of the countries in which IKEA sources materials are particularly vulnerable to the effects of climate change, harming local communities and increasing the risk of disruption in the supply chain.
For these reasons IKEA is going all in to transform its business, to ensure that it is fit for the future and is having a positive impact. This means becoming energy independent by investing in renewable energy and efficiency while cutting emissions across the global supply chain. It means transporting products more efficiently and designing them to use fewer materials and more sustainable mate- rials in production. And it means enabling customers to live a more sustainable life at home, saving and generating energy, using less water and reducing waste and recycling more.