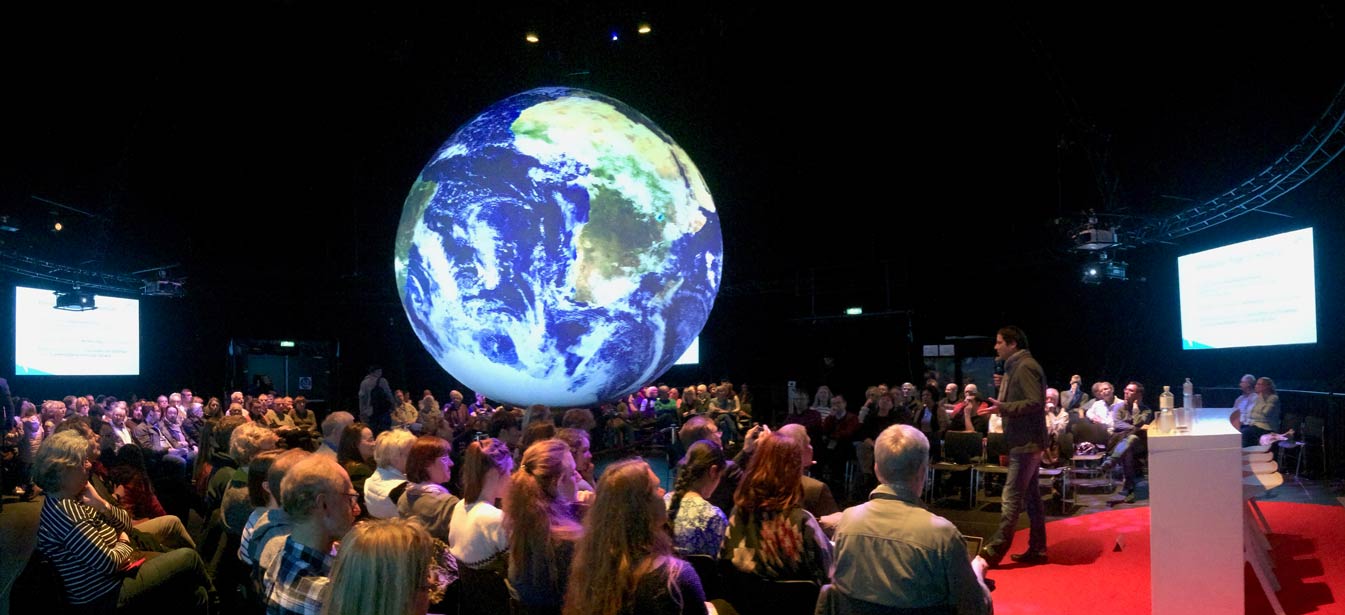 Climate change is real and affecting everyone, most of all the poor. We will never end poverty if we don't tackle climate change. Fortunately, climate solutions are at hand. It will cost us far less to take on climate change now than to wait and deal with it later. We have begun to pivot toward low-carbon energy sources, address deforestation, create climate-smart cities and use resources more efficiently. We have taken our first steps along the path to zero-carbon economies. But we need to accelerate the progress of the climate movement to secure a sustainable future for our sons and daughters.
Climate change is actively undermining development efforts around the world, deepening vulnerabilities and eroding hard-won gains. Consequences are already manifest on every continent and in every sector.
Abnormal climatic conditions are eradicating species, inundating lands, and threatening the livelihoods of everyday people. An increase in the frequency of natural disasters such as droughts, floods, severe storms, and forest fires are taxing individuals, businesses, and governments. Extreme climatic events can push households below the poverty line, leading to greater rural-urban migration and often stoking conflict. Promoting economic growth and the elimination of poverty and inequality is an increasingly daunting task amid the setbacks of climate change.
It's up to us as a species to adapt effectively to the early impacts of climate change and to mitigate its pace moving forward. It will be impossible to lift the poorest on the planet out of poverty if climate change proceeds unchecked.
In December 2014, the UNFCCC meetings in Paris produced an agreement hailed as "historic, durable and ambitious". The pledge requires developed and developing countries alike to limit their emissions to relatively safe levels and to undergo regular reviews to ensure they are on track for the future. The central objective of the Paris agreement is keeping global warming below 2 degrees Celsius, though it aspires to keep this number below 1.5.
We called for strong ambition, remarkable partnerships, mobilization of finance, and implementation of national climate plans. Paris delivered. Now we must embrace our shared responsibilities.

Dr. Jim Yong Kim, President, World Bank Group
Develop climate-smart
We need to double down on our initial push toward sustainable energy and resource management if we are to meet the Paris benchmarks. Dramatic technological change, steadfast political will, and international cooperation are all required to change the trajectory of climate change and effectively safeguard people and ecosystems. The window in which we can prevent global warming from reaching 2°C is closing rapidly: the time to act is now.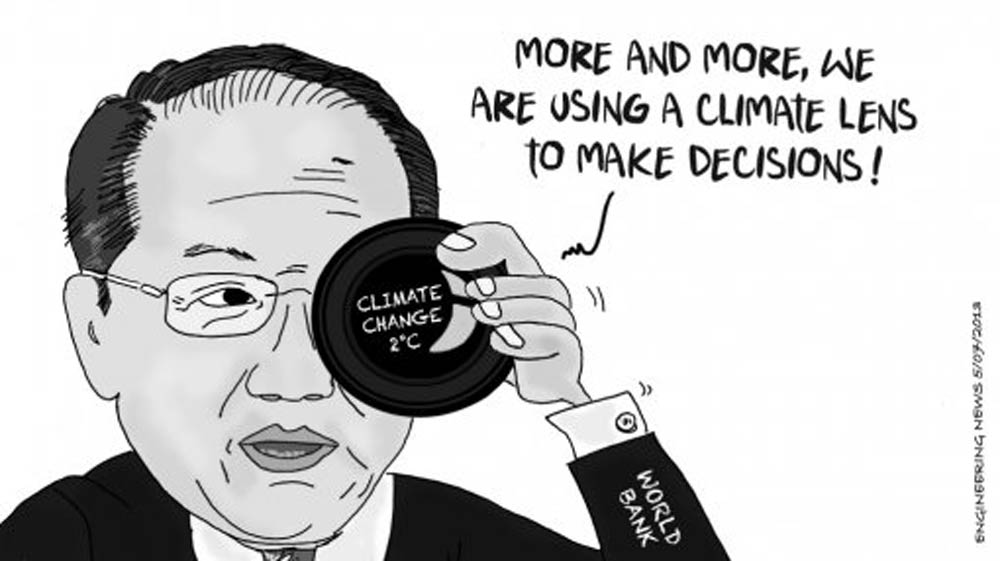 It is within our power to help cities reduce waste, strengthen their climate resilience, develop climate-smart agricultural practices and find novel ways to incorporate renewables into their energy models. We can work with countries to roll back harmful fossil fuel subsidies and in their place enact measures that will eventually lead to a stable price on carbon. We are determined to work with countries to find solutions, because the science is sending us a very clear distress signal.

Dr. Jim Yong Kim, President, World Bank Group
Preventing a Warmer World
The global community has notionally committed itself to holding warming below 2°C to prevent "dangerous" climate change. Meanwhile, Small Island Developing States and Least Developed Countries have identified a global temperature delta of only 1.5°C as warming beyond which there would be serious threats to their own development and, in some cases, survival.
While the Paris talks clearly constitute progress, the sum total of current actual policies – in place and pledged – will very likely lead to warming far in excess of even the 2°C figure. Indeed, present emission trends suggest that it is likely global warming will surpass 2°C within the century.
Despite the global community's best intentions to keep the global warming brought on by industry below 2°C, absent widespread urgent action, higher levels of warming are increasingly likely.

Dr. Jim Yong Kim, President, World Bank Group
Human-caused climate change
Climate is often defined casually as the "average weather" in a place. It includes patterns of temperature, precipitation (rain or snow), humidity, wind and seasons. Climate patterns play a fundamental role in shaping natural ecosystems, and the human economies and cultures that depend on them.
But the stable climate patterns we've come to expect are now falling by the wayside. In response to greenhouse gas emissions, climate across the globe is rapidly and harmfully changing—faster than at any point in the last 2,000 years.
The Earth's climate has evolved on many timescales in response to natural factors. On timescales of tens of thousands of years, we see the Earth move in and out of ice ages.
At the other timescale extreme, El Niños come and go every few years, temporarily raising the Earth's temperature. Ever since we emerged from the last ice age around 11,000 years ago, though, the Earth's climate has remained relatively stable, with global temperatures averaging roughly 14°C.
That is, until now.
In the last century, our climate has evinced signs of rapid change. 1983-2012 was likely the warmest 30-year period of the last 1400 years.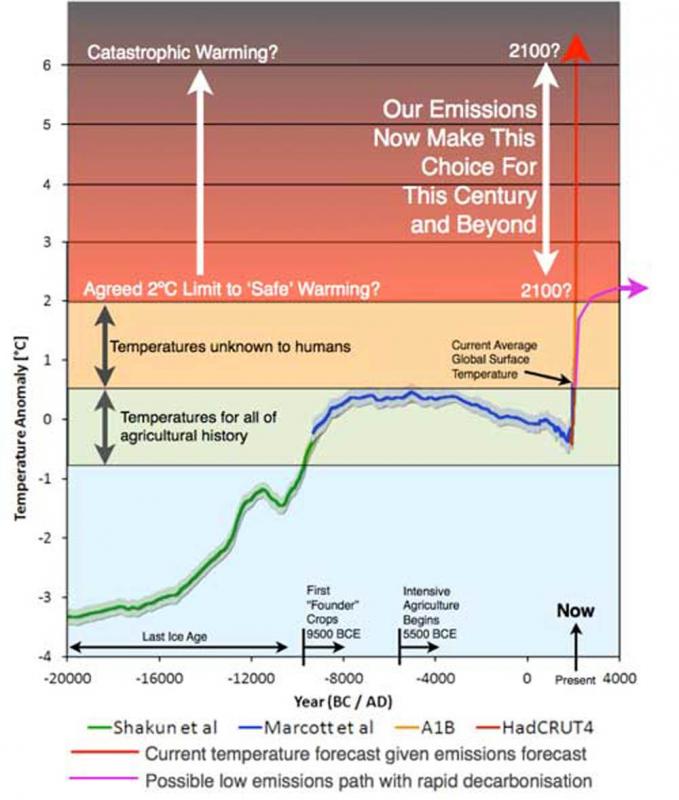 Reconstruction of past temperature record and an indication of current and future warming by Paul Price.
There are many factors that can contribute to a worldwide warming of climate, among them excess energy from the sun, impactful natural events such as El Niño, and an increase in greenhouse gas density. Scientists have ruled out the sun and natural variations in our climate as the major causes of the recent warming. The blame falls squarely on our collective shoulders.
Statistical analysis has shown definitively that human influence has been the dominant driver of warming since the mid-20th century. There is overwhelming evidence that the abnormal climate trends we've seen are the direct result of humanity's sustained emissions of greenhouse gases such as water vapor, carbon dioxide, and methane into the atmosphere.
Our relentless burning of fossil fuels like oil and coal, compounded by an uptick in deforestation for cattle grazing and other similar trends, has appreciably augmented the concentration of carbon dioxide, methane, and other greenhouse gases in Earth's atmosphere.
The science is unequivocal that humans are the cause of global warming, and major changes are already being observed: mean global warming is 0.8°C vis-à-vis preindustrial levels; oceans have warmed by 0.09°C since the 1950s and are acidifying; sea levels have risen by about 20 cm since preindustrial times and are now rising at fully 3.2 cm per decade; heat waves occurred with unprecedented frequency this past decade; and major tracts of cropland have been newly ravaged by drought.

Dr. Jim Yong Kim, President, World Bank Group