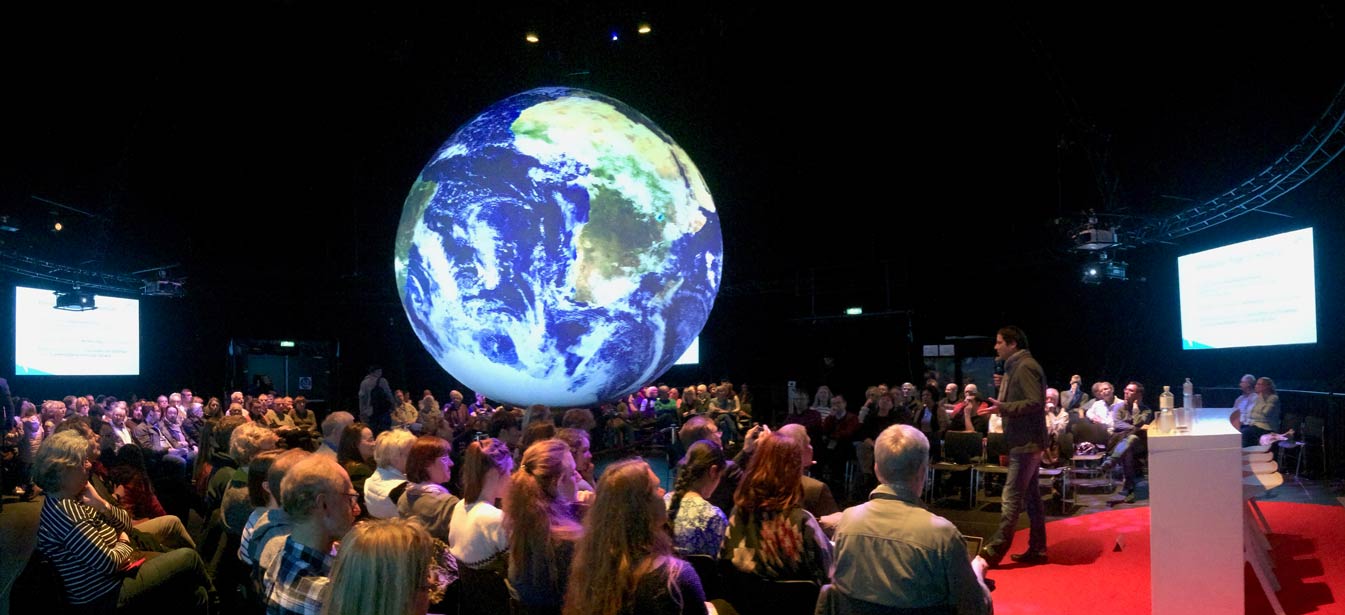 Climate change is real and affecting everyone, the poor the most. We will never end poverty if we don't tackle climate change. Climate solutions are at hand. It costs less to take on climate change now compared to dealing with the consequences. We are switching to low-carbon energy sources, addressing deforestation, creating climate-smart cities and using resources more efficiently. We are on the path to zero carbon economies. We need to accelerate the climate movement for a sustainable future.
Climate change is already undermining progress and prospects for development and threatens to deepen vulnerabilities and erode hard-won gains. Consequences are already being felt on every continent and in every sector.
Species are being lost, lands are being inundated, and livelihoods are being threatened. More droughts, more floods, more strong storms, and more forest fires are taxing individuals, businesses, and governments. Climate-related extreme events can push households below the poverty trap threshold, which could lead to greater rural-urban migration and result in conflict. Promoting economic growth and the eradication of poverty and inequality will thus be an increasingly challenging task under future climate change.
Actions must be taken to mitigate the pace of climate change and to adapt to the impacts already felt today. It will be impossible to lift the poorest on the planet out of poverty if climate change proceeds unchecked.
In December 2014, the UNFCCC meetings in Paris produced an agreement hailed as "historic, durable and ambitious". Developed and developing countries alike are required to limit their emissions to relatively safe levels, of 2°C with an aspiration of 1.5°C, with regular reviews to ensure these commitments can be increased in line with scientific advice.
We called for strong ambition, for remarkable partnerships, for mobilization of finance, and for implementation of national climate plans. Paris delivered. Now the job becomes our shared responsibility.

Dr. Jim Yong Kim, President, World Bank Group
Develop climate-smart
We are switching to low-carbon energy sources, addressing deforestation, advancing climate-smart agriculture, developing resilient low-carbon cities and using resources more efficiently. We are on the path to zero carbon economies. We are putting a price on carbon and investing in clean growth. We need to accelerate the climate movement for a sustainable future.
A renewed momentum is needed. Dramatic technological change, steadfast and visionary political will and international cooperation are required to change the trajectory of climate change and to protect people and ecosystems. The window for holding warming below 2°C is closing rapidly, and the time to act is now.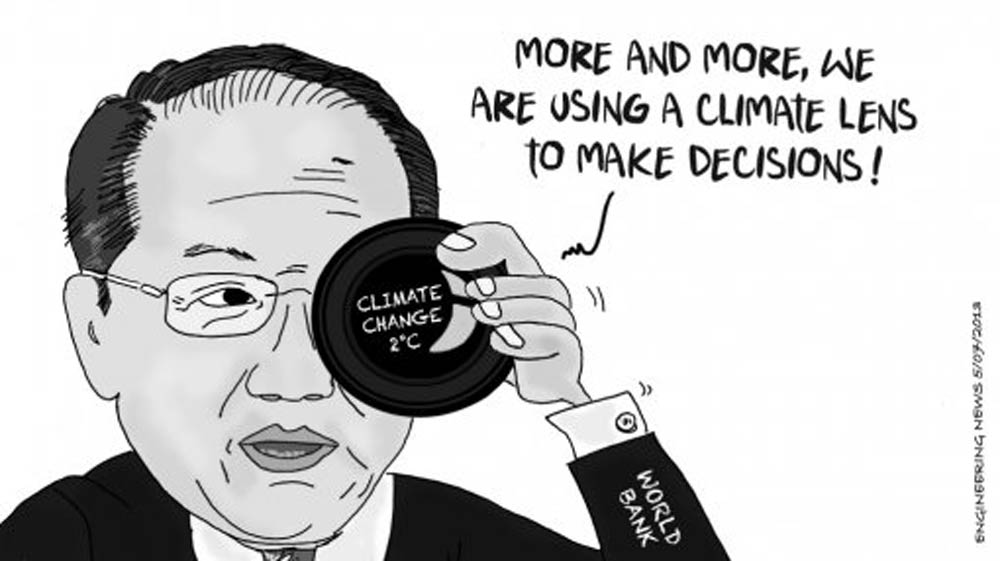 We can help cities grow clean and climate resilient, develop climate smart agriculture practices and find innovative ways to improve both energy efficiency and the performance of renewable energies. We can work with countries to roll back harmful fossil fuel subsidies and help put the policies in place that will eventually lead to a stable price on carbon. We are determined to work with countries to find solutions. But the science is clear.

Dr. Jim Yong Kim, President, World Bank Group
Preventing a 2° Warmer World
The global community has committed itself to holding warming below 2°C to prevent "dangerous" climate change, and Small Island Developing states and Least Developed Countries have identified global warming of 1.5°C as warming above which there would be serious threats to their own development and, in some cases, survival.
However, the sum total of current policies – in place and pledged – will very likely lead to warming far in excess of these levels. Indeed, present emission trends put the world plausibly on a warming path well above 2°C within the century.
Despite the global community's best intentions to keep global warming below a 2°C increase above pre-industrial climate, higher levels of warming are increasingly likely.

Dr. Jim Yong Kim, President, World Bank Group
Human-caused climate change
Climate is usually defined as the "average weather" in a place. It includes patterns of temperature, precipitation (rain or snow), humidity, wind and seasons. Climate patterns play a fundamental role in shaping natural ecosystems, and the human economies and cultures that depend on them.
But the climate we've come to expect is not what it used to be, our climate is rapidly changing with disruptive impacts, and that change is progressing faster than any seen in the last 2,000 years.
The Earth's climate has changed on many timescales in response to natural factors. On long timescales, such as tens of thousands of years, we see the Earth move in and out of ice ages.
At the other extreme, El Ninos come and go every few years, temporarily raising the Earth's temperature. Since we emerged from the last ice age around 11,000 years ago, the Earth's climate has remained relatively stable, with global temperatures averaging at about 14°C.
However, in the last century, our climate has started to change rapidly. The evidence points to a long-term change in our climate that is happening at an unusually quick rate. 1983-2012 was likely the warmest 30-year period of the last 1400 years.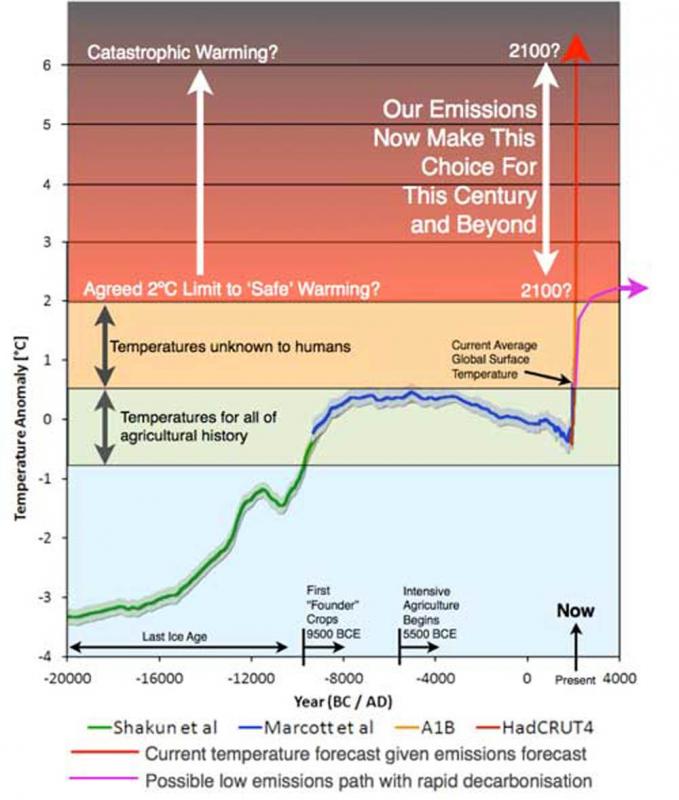 Reconstruction of past temperature record and an indication of current and future warming by Paul Price.
There are many factors that can cause a warming of our climate; for example, more energy from the sun, large natural events such as El Nino or an increased greenhouse effect. Scientists have ruled out the sun and natural variations in our climate as the major causes of the recent warming.
It is extremely likely that human influence has been the dominant cause of the observed warming since the mid-20th century. There is overwhelming evidence that the warming we've seen is due to increased amounts of greenhouse gases, such as water vapor, carbon dioxide, and methane in the atmosphere.
Human activities have directly increased the amount of carbon dioxide, methane, and some other greenhouse gases. These increases can be through the burning of fossil fuels such as oil and coal, and changes in land use such as chopping down forests for cattle grazing.
The science is unequivocal that humans are the cause of global warming, and major changes are already being observed: global mean warming is 0.8°C above pre industrial levels; oceans have warmed by 0.09°C since the 1950s and are acidifying; sea levels rose by about 20 cm since pre-industrial times and are now rising at 3.2 cm per decade; an exceptional number of extreme heat waves occurred in the last decade; major food crop growing areas are increasingly affected by drought.

Dr. Jim Yong Kim, President, World Bank Group