December 4, 2017 - 8:00am to December 5, 2017 - 7:15pm
World Bank Group
1818 H St NW
Washington, DC, 20433
United States
Timezone: America/New_York

We find ourselves amid the greatest information and communications revolution in human history and must take advantage of this rapid technological change to make the world more prosperous and inclusive. With youth being the early adopters and the most active users of Information and Communication technologies, their participation is essential in expanding the reach of technology and fulfilling the transformative potential of the digital revolution. This year's Youth Summit will seek to provide youth with a forum to voice their concerns, share their ideas and learn from one another while discussing the challenges and opportunities created by this technological shift. 
Apply here to register for the Summit as an attendee.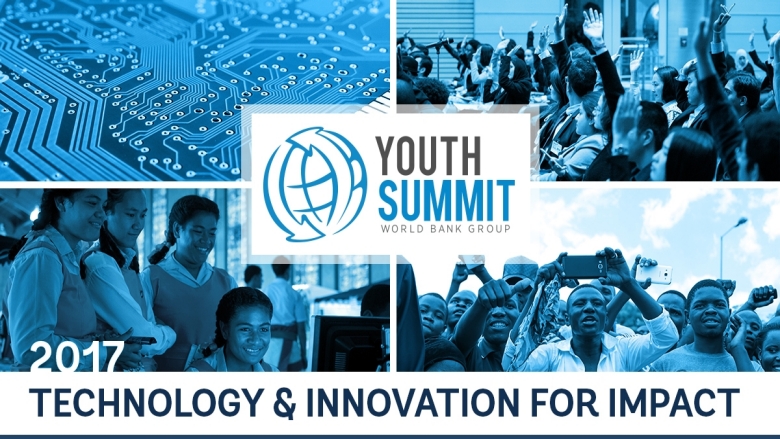 Structure of the Youth Summit
The two-day Summit will be held on the 4-5 December 2017 in Washington DC and livestreamed globally. The 2017 Youth Summit will have three components:


  Plenary: The Summit will include dynamic high-level plenary sessions which aim to ignite conversation on fulfilling the opportunities of technological innovation. The plenary session will juxtapose youth representatives and speakers from the World Bank Group, the private sector, government, academia and civil society with the objective of engaging a plurality of views on how to reap sizable technological dividends.


  Workshops: Attendees will participate in workshops that delve into the Summit's three subthemes, giving participants an opportunity to share ideas and experiences and debate how to maximize the potential of Information Communication Technologies all around the globe.
The subthemes are:


  Transforming the Jobs and Skills of Tomorrow




​  Leveraging Technology for Financial Inclusion




​  Igniting Youth Entrepreneurship. 


  Competition: On the second day of the Summit, the live final of the Youth Summit Competition 'Technology and Innovation for Impact' will take place. The competition finalists will have the opportunity to pitch their ideas to the audience of attendees and an expert jury. 
A full Summit agenda including speakers will be released closer to the event date.

Sign up to the mailing list to keep up to date on the latest Summit information including blogs, partner events and speaker announcements. Join the Youth Summit Mailing List by clicking here.
You can also participate in the conversation on social media using the hashtag #wbgyouthsummit.