April 1, 2015 - 12:45am to April 30, 2015 - 11:45pm

April is huge.
As first announced by the White House on December 3, 2014, we are launching our initiatives that will link climate change, education and poverty. "We cannot end poverty if we do not tackle climate change," World Bank Group President Jim Yong Kim has said. Our efforts to raise climate education, literacy, and training are supported at the highest level here in the United States. "If you believe, like I do, that something has to be done on this, then you're going to have to speak out," said President Barack Obama.
Not only do millions of people all over the world celebrate Earth Day as they have since 1970, millions more will flock to Washington, D.C. for multiple mega-events. In addition to seeing our world-famous cherry blossoms, representatives from governments all over the world come to the American capital for Spring Meetings of the International Monetary Fund and the World Bank Group. A star-spangled event featuring familiar faces such as Usher, No Doubt, Fall Out Boy, Mary J. Blige, and Train—to name a few—will be shouting and singing out the message that we need to take action on climate change, and we need to do it now.
We'll also be premiering "Chloe & Theo," a feature film starring Dakota Johnson, Mira Sorvino, and first-time actor, Theo Ikummaq. In this comedy, a homeless girl befriends an Inuit, who has traveled to New York City from his tiny Arctic hometown with a big message for world leaders: My world is melting. The film was the brainchild of first-time producer Monica Ord. She heard about Theo's true story from a friend, who challenged her to do something about it.
This month, with such innovative and enthusiastic minds in one place, this is an ideal opportunity for us at Connect4Climate to join forces with like-minded partners to engage a variety of audiences—youth, students, professionals, scholars, and influencers—and mobilize them to act on climate change.
Connect4Climate has partnered with the Earth Day Network to put together events throughout the entire month—and beyond. Together we will reach a new audience and ensure that the links between climate change and poverty are well understood.
Our mission includes generating enthusiasm that will drive world leaders to make bold decisions. While it's exciting to be among the stars, much of our work takes place behind the scenes, helping those with no voice to reach many, and elevating their stories to the world stage.
Here is what we're doing in April. Download the program.
By Lucia Grenna, Connect4Climate Program Manager, World Bank Group, and Kathleen Rogers, President, Earth Day Network
MobilizeU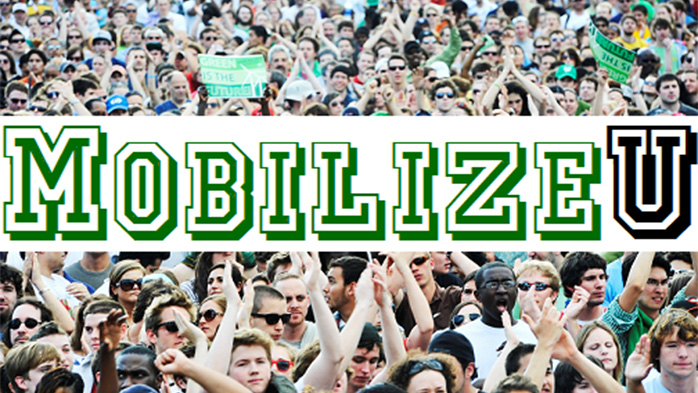 MobilizeU is an international movement of concerned and active university students mobilizing their campuses for Earth Day 2015. MobilizeU taps into students' power as leaders to facilitate social and environmental action. In order to diversify the environmental movement and encourage more voices to join the conversation, universities will be hosting Climate Communication Forums.
Let's Talk Climate
The climate challenge is one of the defining issues of this century. Awareness of climate change is rising, but we've seen too little action. Communicating effective messages is vital to building a movement of motivated citizens—especially among global youth. We have to bridge the gap between knowledge and action.
In the Let's Talk Climate eDiscussion, panelists discuss innovative strategies to climate communication. Topics include technology and new media's influence in spreading awareness, the power of solution stories, and the impact of influential role models. Results from this open forum will inform the discussion in our "Communication for Climate Change 2.0" conference held on April 15 at the World Bank Group Headquaters.
Moderator
Johanna Bozuwa, Associate Director of Education at Earth Day Network
Panelists
Andrew Revkin, New York Times environment blogger
Courtney St. John, Associate Director of Outreach at CRED at Columbia University
Andrew Schenkel, Managing Editor & Director of Special Projects at tcktcktck (GCCA)
Aimee Sison, Manager of Social Media Strategy at Climate Nexus
Lucia Grenna, Program Manager at Connect4Climate
Max Thabiso Edkins, Communications Officer at Connect4Climate
Communication for Climate Change 2.0

April 15, 2015 at the World Bank Heaquaters hosted by Connect4Climate, World Bank Group and the Center for Research on Environmental Decisions (CRED) at the Earth Institute, Columbia University.
We are bringing together a unique, multi-disciplinary group of scholars and multi-sector leaders who are experts in communicating climate change to a broad audience.
Program Topics
Knowledge Sharing and Engagement Methods
Knowledge Management and Communication
Measuring Impact
Goals
Creation of a diverse international committee to advance research & best practices for climate change communication.
Conference Format
Inspirational case studies amplifying the three defined topics will be followed by a roundtable discussion, led by Prof. Elke Weber of Columbia University, which will allow all participants to share insights, engage in discussion, and receive targeted feedback.
Rachel Kyte, Vice President and Special Envoy for Climate Change, World Bank Group, will provide opening remarks.
The event is by invitation only, follow online: twitter.com/Connect4Climate
Download the flyer here.
Entertaining Climate Action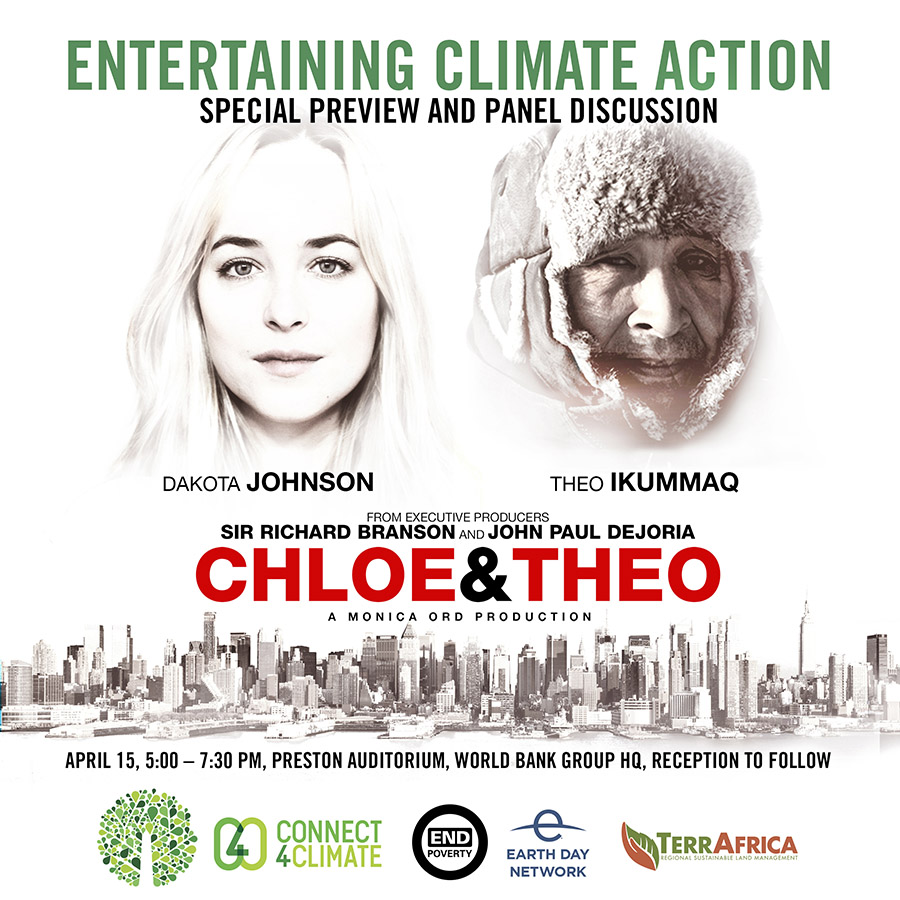 As part of the the Film4Climate initiative Connect4Climate/World Bank Group will host a dynamic discussion to emphasize the value of the entertainment industry, in particular the film industry, to address climate change solutions.
Discussants
Monica Ord - Producer, "Chloe & Theo"
Theo Ikummaq - Lead Actor, "Chloe & Theo"
Martin Katz - Chair of Academy, Canadian Cinema and TV
Julie Allen - Director, Social Responsibility, MTV International
The discussion is followed by a special screening of "Chloe & Theo," a comedy that addresses a serious issue and highlights how powerful storytelling can motivate people to tackle climate change. In the film, a homeless girl befriends an Inuit, who has traveled to New York City from his tiny Arctic hometown with a big message for world leaders: My world is melting.
Alcantara Magic Garden

Visit the solar-energy powered Alcantara Magic Garden-Connect4Climate Pavilion. Experience an imaginary fairy-tale landscape designed by renowned architect Giulio Cappellini, where you can interact with some of the natural wonders of our planet.
Learn how Connect4Climate creates exciting programs to motivate millions of young people all over the world to take action on climate change.
Action4Climate: A video competition that challenges young filmmakers to tell their stories
Film4Climate: Greening the film industry, one movie at a time
Sport4Climate: A global communication campaignthat harnesses the influence of athletes and sports figures
Fashion4Climate: Using selfies, tweets, and Instagram photos of our Climate Action Bracelet to start conversations on climate change
BE THERE! JOIN THE MOVEMENT! BE THE SOLUTION! #ACTION4CLIMATE
2015 is the year to connect and take on climate change.
See the pavilion as it is being built.
Global Citizen 2015 Earth Day

Connect4Climate is proud to partner with Earth Day Network and the Global Poverty Project, the organizations who have spearheaded Global Citizen 2015 Earth Day, a free event open to the public and live streamed on Google. Like us, both our partners believe that we cannot end poverty without tackling climate change.
The World Bank Group, a key partner, is helping to bring voices from developing countries to the event's platform. A number of organizations—including Connect4Climate, TerrAfrica, and Pollution Management and Environmental Health, as well as teams in the Environment, Agriculture, Health, and Water practices of the
World Bank Group—are providing guidance to the event organizers and working closely with them to secure significant commitments.

On stage Connect4Climate will also honor young filmmakers from 70 countries who took on climate change by submitting their work in our Action4Climate competition.
In addition, a high-level roundtable discussion in the backstage area of the event, featuring some of the artists, influencers, and speakers participating on stage, will further conversations on climate change (invitation only).
Climate Education Week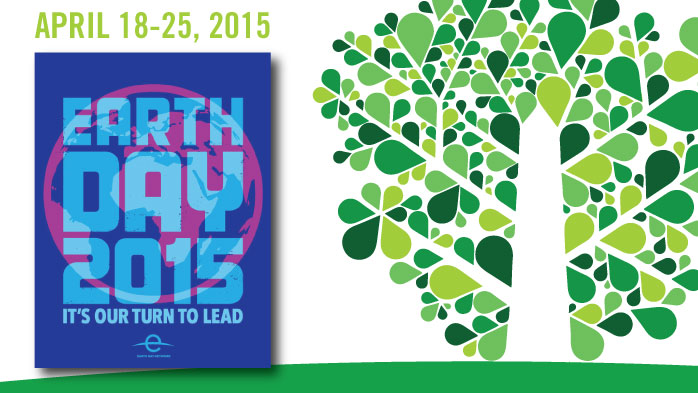 Starting with the Global Citizen 2015 Earth Day event on the Washington Mall on Saturday April 18, Earth Day Network and partners NASA and Connect4Climate, are bringing the "
Climate Education Week Toolkit
" to schools all over the United States.
The toolkit is a free, easy-to-use  resource with a week's worth of lesson plans, activities, and contests for K-12 students.
Earth Day 2015
We're proud to partner with Earth Day Network and Union Station to present the third annual Earth Day at Union Station, marking the 45th anniversary of Earth Day. There will be hands-on exhibits headlined by NASA scientists and astronauts, designed to educate children and families about the environment.
Two billion people across 192 countries will participate in Earth Day 2015, making it the largest civic observance in the world. Hundreds of major cities around the world from Milan to Houston, Delhi to Des Moines, Rome to Seattle, Dallas to Dubai are organizing actions in their communities.
This Earth Day we call upon citizen, educators, corporate leaders, governments, and global organizations to drive the movement forward. It is our turn to lead. To learn more about our campaigns, search Earth Day events worldwide, and register your own event go to:www.earthday.org/2015
#TAKEON CLIMATE CHANGE - Program