February 22, 2017 (All day) to February 23, 2017 (All day)

The Sustainable Innovation in Sport conference brings together key industry stakeholders and leading infuencers who are engendering positive environmental impact through sport.
The sport industry touches hundreds of millions of people globally every year, presenting an unparalleled opportunity to instigate sustainable innovation from within the sports teams, stadiums, governing bodies, ministries – all the way to individual fans' behaviour. 
THE GLOBAL SPORTS INDUSTRY IS WORTH €350 - €450 BILLION
It is dificult to put a gure on the impact of global sports on the environment as it is so far reaching and data is not always readily available, but these stats give an idea:
• In 2014 the FIFA World Cup Brazil generated just over 2.7 million tonnes of carbon emissions
• Waste Management (WM) estimates that in the USA, the NFL, MLB, NBA, NHL generat eapproximately 35,000 metric tons of carbon dioxide (CO2) each year from their fans' waste activities
CONFIRMED SPEAKERS INCLUDE:

Connect4Climate in Munich on Day 1

  February 22, 2:00 - 3:10 pm (CET): The Messengers: Influencing Fan Behaviour via Athletes, Sponsorship and Broadcast 
Athletic endorsements and sponsorship: how you can positively affect consumers' attitudes and consumption 
How tournaments and stadiums can work with broadcasters to enhance sustainability messaging 

The rise of the 'Eco-athlete' sports advocate - case studies from athletes who are entrenched in renewables and 
environmentalism and how to use this influence to encourage change 
​
Moderator: Claire Poole, Climate Action
Lucia Grenna, Program Manager and Senior Communications Officer, Connect4Climate and World Bank Group
Jörg Königstorfer, Chair of Sport & Health Management, Technical University of Munich 
Paula Stringer, Head of Production, Sport, BBC
Susie Tomson, Sustainability Director, Land Rover BAR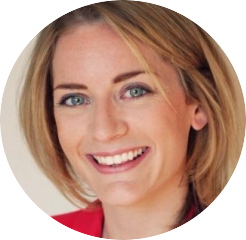 Claire Poole, Event Director, Climate Action 


Established in 2007 and headquartered in London, UK, Climate Action works in a unique, contractual partnership with the United Nations Environment Programme (UNEP) – the world's foremost body on environmental protection and stewardship.
Climate Action establishes and builds partnerships between business, government and public bodies to accelerate international sustainable development and advance the 'green economy'. Climate Action does this by providing a global media and events platform across which stakeholders can share knowledge, technologies and expertise, and identify innovative solutions to the challenges faced by climate change and a growing population. Climate Action helps partners and supporters to engage the private sector, bringing innovations, technologies and finance to the debate. For Climate Action clients the team helps to generate profitable business opportunities and partnerships, provide top-level access to emerging markets and reinforce their commitment to, and their position as leaders within, the global sustainability industry.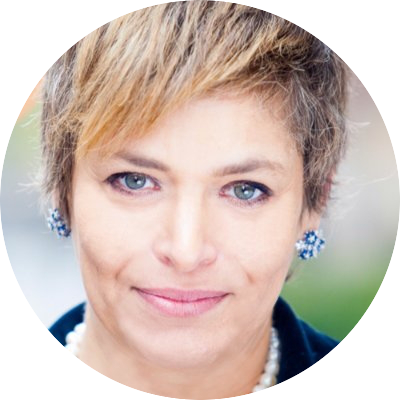 Lucia Grenna, Program Manager and Senior Communications Officer, Connect4Climate and World Bank Group 

Lucia Grenna is program manager of Connect4Climate, the World Bank Group's global partnership program, and senior communications officer in the operational communications unit of the World Bank Group.
Connect4Climate is a global partnership program launched by the World Bank Group and the Italian Ministry of Environment, joined by the German Federal Ministry for Economic Cooperation and Development, that takes on climate change by promoting solutions and empowering people to act – of which Sport4Climate is a key initiative. Launched at the "Climate Change: What the Olympics have to do with that" symposium at Museum of Tomorrow, on July 28 in Rio de Janeiro, Brazil, the campaign '1.5C: the record we must not break' aims to create a sense of curiosity in the wider audience around the 1.5°C goal set in the Paris Agreement, complementing and expanding the successful and ongoing #1o5C campaign, promoted by the Climate Vulnerable Forum.
It also builds on the #Sport4Climate campaign, launched in 2014 to leverage the influence of sports persons to advocate for climate action.

Jörg Königstorfer, Chair of Sport & Health Management, Technical University of Munich
Professor Königstorfer studied sport management at the University of Bayreuth and the University of California, Davis. He received his PhD from Saarland University in 2008. and has worked as a postdoctoral researcher at Saarland University and at the Smeal College of Business at Pennsylvania State University. Since 2012 he has been a full professor in the Department of Sport & Health Management at TUM. He is a member of the German-speaking Association for Sport Management, the European Association for Sport Management, the European Marketing Academy and the Association for Consumer Research.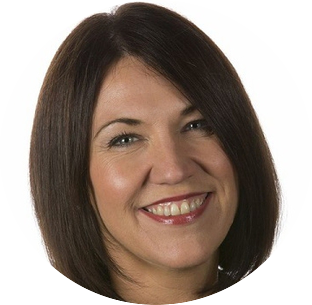 Paula Stringer, Head of Production, Sport, BBC
Paula is currently the Head of Production for BBC Sport managing all operational parts of the business (TV, Radio, Digital & News) delivering the Olympics, MOTD, Wimbledon, World Cup and, well everything Sport that goes on the BBC. She has considerable experience of leading teams and is a very creative and effective problem solver. She likes people (generally) and is skilled at developing and motivating large teams as well as at finding and implementing efficiencies in them – yes these things conflict from time to time. Paula is passionate about the added value provided by good production management and knows how important the job is. She wants to inspire the best in resource and facility management, procurements, supplier contracting & management, business risk management, finance and accounting, innovation in the best use technology and getting the right people in the right job and the right price. Paula is a strong leader and good communicator (though bath time with her children does test these skills from time to time). 
Susie Tomson, Sustainability Manager, Land Rover BAR America's Cup Team 

Currently Sustainability Manager at America's Cup Land Rover BAR, Susie has supported and delivered sustainability programmes for top sporting teams and events such as the Ryder Cup 2014, Golf's European Tour, the London 2012 Olympics, as well as the earlier British America's Cup Challenge TeamOrigin. She has been an associate member of the Institute of Environmental Management and Assessment (AIEMA) since 2008 and has a PhD in Integrated Coastal Management (2001) from the University of Newcastle upon Tyne. 
Full Agenda
Day 1 | February 22: The role of sport to drive fan and consumer engagement towards sustainable behaviour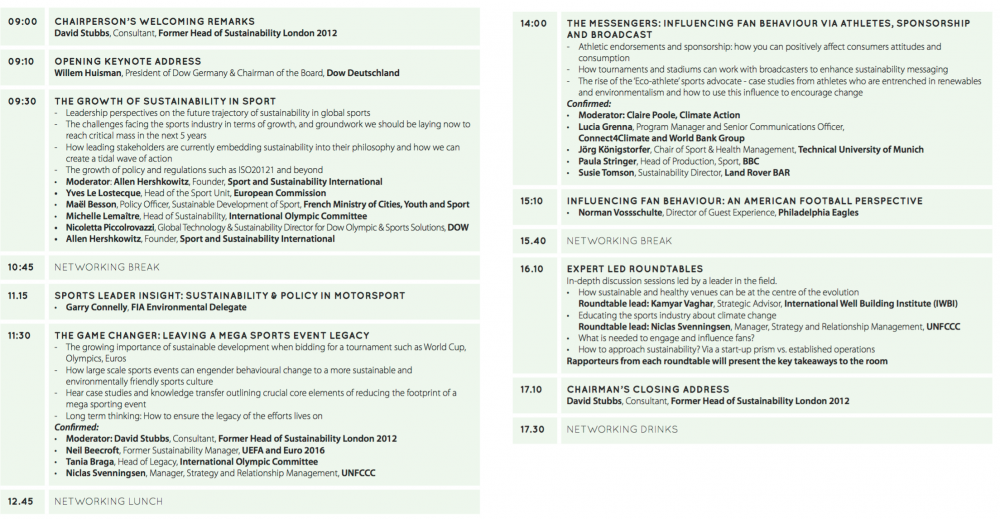 Day 2 | February 23: Effecting sustainable change from inside the industry