November 6, 2017 (All day) to November 17, 2017 (All day)

Sustainable Energy for All (SEforALL) will be at the 23rd Conference of the Parties (COP23), the UN Climate Change Conference taking place in Bonn, Germany, Nov. 6 – 17, 2017.
SEforALL will be focused on the critical path of an energy transition that can serve all with reliable, affordable and clean power – key linchpins of achieving Sustainable Development Goal (SDG) 7 and the Paris Climate Agreement. We'll continue to build the evidence base – and actions needed – for leaving no one behind. Achieving greater efficiency in energy systems, including stronger connections between power produced and transport used, will be another high priority.
Highlights of SEforALL activities and announcements are listed below, with more information available on our website a
SEforALL.org/COP23
.
People-centered Accelerator Launch
The People-Centered Accelerator, which aims to advance gender equality, social inclusion, and women's empowerment in the sustainable energy sector, will be formally launched at this year's COP. The Accelerator, supported by multiple partners and led by SEforALL, aims to enhance clean energy access for the poorest people who will not be reached by business as usual approaches. To support this, the work of the Accelerator will focus on unlocking finance from private and public sources, strengthening collaboration and connections between stakeholders in the energy, gender and social justice sectors and increasing women's full participation in sustainable energy solutions.
The launch will take place during Gender Day on Tuesday, 14 Nov., when Rachel Kyte, CEO and Special Represen- tative to the UN Secretary-General of Sustainable Energy for All, will announce the Accelerator during the High-Level Plenary Session. The launch will be followed by with a side event on Wednesday, 15 Nov., which will take a deeper dive into the work that is already happening to advance the goals of the Accelerator. Everyone is welcome to attend and a networking reception will take place directly after the event. The Accelerator will also host a booth in the Gender Marketplace.
Find out more about the People-Centered Accelerator on our website
here
.
New Report: Why Wait? Seizing the Energy Access Dividend
This new research on energy access dividends, undertaken by SEforALL, Power for All and the Overseas Development Institute, will be launched on Thursday, 16 Nov. The report explores the wide-ranging bene ts that comes with faster access to energy services. It provides a framework to measure the economic, social and environmental bene ts that result from the accelerated delivery of electricity at the household and national level through decentralized solutions at different Tiers of energy service. By providing decision makers with an integrated framework through which to assess these bene ts, it is hoped this research can help identify and prioritize pathways to provide electricity access at an acce- lerated pace while delivering potentially signi cant benefits.
The launch of this report follows closely and is linked to Energizing Finance – new research released by SEforALL and partners during the UN General Assembly. Read more on Energizing Finance, including an overarching policy paper with recommendations from SEforALL,
here
.
The Why Wait? Energizing Finance to Seize the Energy Access Dividend side event will take place on Thursday, 16 Nov. The dialogue will highlight the importance of an integrated approach to energy planning that embraces centra- lized and decentralized energy solutions. By enabling electricity access through a range of solutions, electricity can be delivered faster to rural and hard to reach communities while securing development bene ts –  nancial, climate change, education. It will highlight the importance of directing and scaling  nance to unlock opportunities at the local level and achieve SDG calling for universal access to sustainable energy by 2030.
Supporting COP23 Energy Dialogues
Throughout the COP, SEforALL will be present at and supporting all energy related dialogues, focusing on how we achieve SDG7 of affordable, reliable, sustainable and modern energy for all within the context of the Paris Climate Agreement. This includes;
 Energy, transport and cities:For the firs time at a COP, the energy, transport and city communities will come together to organize two joint events on the Urban, Energy and Transport Nexus as part of the Marrakech Partnership on Global Climate Action High Level Event on
Monday, 13 Nov.
: (i) a High-Level Plenary Session, (ii) a Roundtable dialogue. These joint urban, energy and transport events will break down silos build on a wider set of engagements on transport and energy during COP23, with the overarching objective of these engagements to demonstrate the scope for greater joint action between the transport and energy community and city leaders in the decarbonization of the world's cities. This session is being co-organized by SEforALL, SloCAT and Global Covenant of Mayors.
Energy Day:
As part of the Global Climate Action thematic days at this year's COP,
Energy Day will take place on Friday, 10 Nov
. in the Bonn Zone. The day will look at how, in order to meet the Paris goals, we must de- carbonize our electricity and energy systems, coupled with SDG7 that re ects a common understanding on the imperative of universal access to affordable, reliable sustainable and modern energy services. The transformation therefore needs a simultaneous and signi cant increase in energy ef ciency and deployment of renewables. Ener- gy Day is being co-organized by SEforALL, IRENA, IEA and The Climate Group.
Key Dates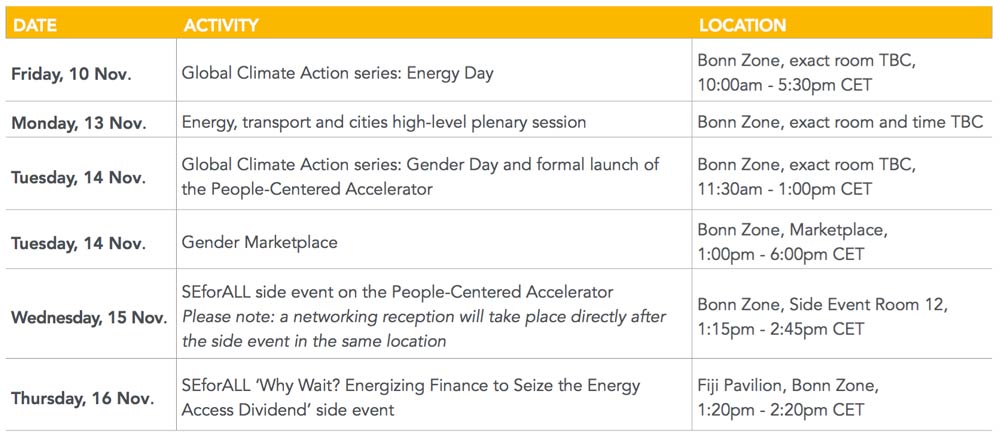 We'll be sharing live updates from Bonn on Twitter via
@SEforALLorg
, with the latest COP23 activity relating to energy from our SEforALL experts and partners. We'll be going live from our
Facebook
page during SEforALL events, and you can read our regular updates on our
LinkedIn
and SEforALL COP page –
SEforALL.org/COP23
.