August 31, 2017 -

9:00am to 2:00pm
Timezone: America/North_Dakota/Center

The Greening Government Webinar Speaker Series is a partnership between the Alberta Environment and Parks Department, the Alberta Climate Change Office and the Municipal Climate Change Action Centre-MCCAC to help governments in Alberta reduce their carbon footprints and grow their respective green economies, by sharing best practices via a webinar speaker series.
Connect4Climate

August 31, 2017, 9:00 -10:00 am
(Mountain Time)
       Max Edkins
The World Bank's Connect4Climate program leads the world in the use of social media for climate change education. From youth engagement, to
projections on the Vatican
, to
All4TheGreen
global outreach the Connect4Climate program of the World Bank Group has engaged influential and diverse audiences and build social currency for leadership action on climate change and sustainable development.
To join the webinar at 9 am Mountain Time on August 31, 2017, click the following link in your browser, iPhone or Android phone: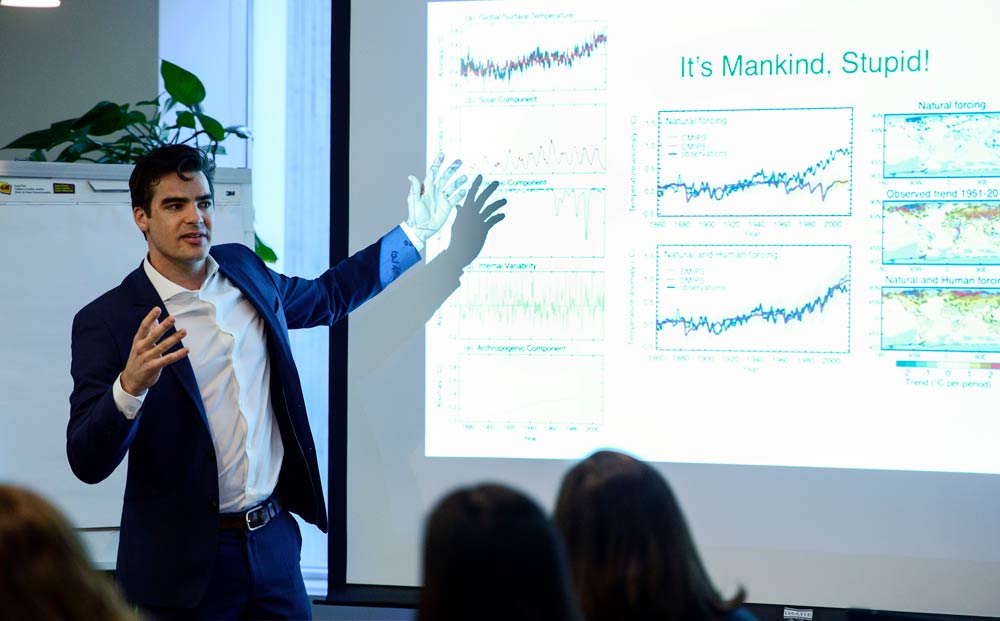 Max Edkins gives a lecture at the World Bank. Photo Credits: Leigh Vogel/Connect4Climate
The Importance of Community in Open Source Responses to Climate Change

August 31, 2017, 11:00 am -12:00 pm
(Mountain Time)
       Brad Micklea
For open source to be used in response to climate change, it's important to understand how to setup a project to make it easier for contributors to experiment with it and prompt the growth of community. This presentation will talk about some general and specific changes that can be done to encourage the growth of the community. It will also cover some free marketing tactics that can be leveraged to increase the profile of the open source project.
Brad Micklea is the Director of Product Management for the Development Tools business at Red Hat and a project lead for the Eclipse Che cloud development project. He led marketing and community growth initiatives for Eclipse Che that saw it go from 0 to >4000 GitHub stars and nearly 100k hours of usage per week.
To join the webinar at 11 am Mountain Time on August 31, 2017, click the following link in your browser, iPhone or Android phone:
BC Gov Goes Open Source for Community Collaboration

August 31, 2017, 1:00 -2:00 pm
(Mountain Time)
The Province of British Columbia has embarked on creating new avenues for community collaboration in the Environment Assessment Office and Environmental Reporting Branch. These teams, working in partnership with the BC Developers' Exchange, are leveraging Open Source application development processes to better connect with their tech community and improve transparency, trust and collaboration.
Todd Wilson is the Director of Business Leadership at the BC Developers' Exchange will take you through the journey and share learnings of how changing the approach to technology can have a direct impact on positive engagement with the Environmental community.
To join the webinar at 1 pm Mountain Time on August 31, 2017, click the following link in your browser, iPhone or Android phone:


  The Greening Government Webinar Speaker Series Goals:
- Increase climate & energy dialogue within the Government of Alberta and Municipal government staff
- As a part of the above point, increase awareness of key climate activities in Alberta within the province among government staff who normally are not involved in climate work 
- Raise awareness of ideas, web-based tools, best practices, etc. that can be implemented by government staff to reduce energy and greenhouse gas emissions
- To celebrate climate/energy successes and innovative projects in the province
- To offer a forum for government staff to ask climate and energy related questions to a variety of experts (the Q/A sessions)


  Operating Guidelines:
- All speakers must agree to present into the speaker series through webinars, therefore no travel is required of any speaker
- No speaker is paid to present into the webinar speaker series
- All presentations are recorded
- All recordings are posted to the Municipal Climate Change Action Centre-MCCAC YouTube channel
· No recording will include any advertisement of any kind