December 8, 2015 -

7:00pm to 10:00pm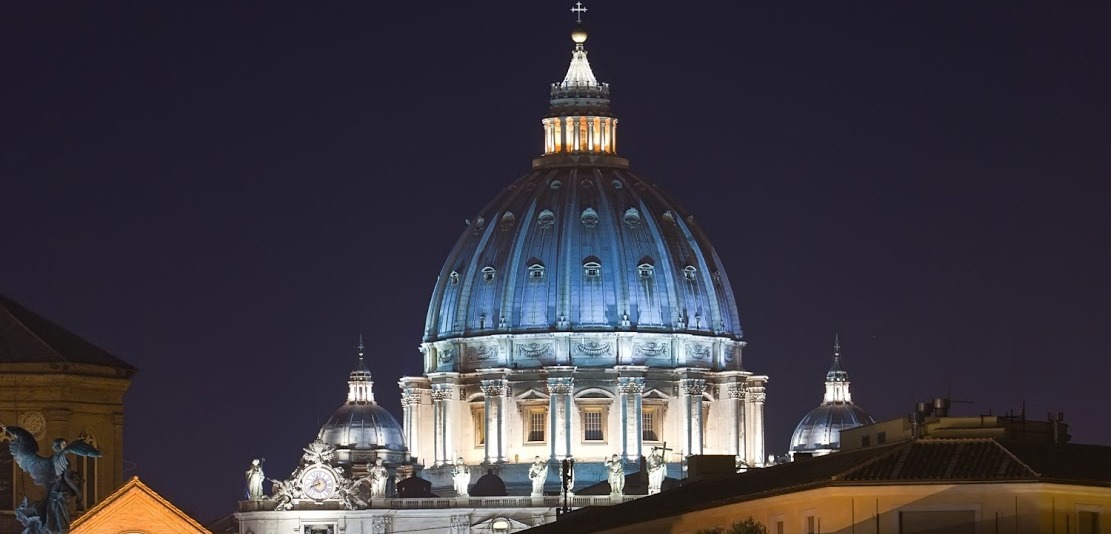 Public art projection featuring images of humanity and climate change to illuminate St. Peter's Basilica on the opening of the Extraordinary Jubilee of Mercy on Dec. 8.
"Fiat Lux: Illuminating Our Common Home" developed in partnership with Paul G. Allen's Vulcan Inc., the Li Ka Shing Foundation, Okeanos and Obscura Digital, under the auspices of the World Bank Group's Connect4Climate, as Gift of Large Scale Architectural Projection to Pope Francis and call to protect our common home.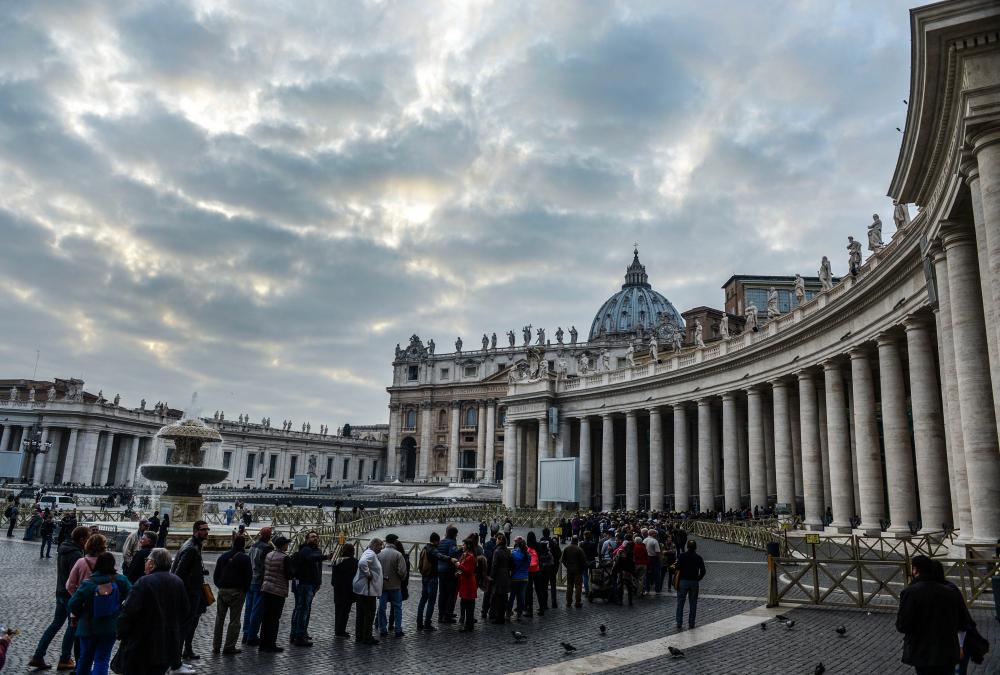 VATICAN CITY, Dec. 4, 2015 — On Dec. 8, a humanitarian coalition comprised of Paul G. Allen's Vulcan Inc., the Li Ka Shing Foundation and Okeanos, in partnership with The Oceanic Preservation Society and Obscura Digital, and under the auspices of the World Bank Group's Connect4Climate initiative, will present a gift of contemporary public art entitled "Fiat Lux: Illuminating our Common Home" to Pope Francis on the opening day of the Extraordinary Jubilee of Mercy. At this unprecedented and historic event, beautiful images of our shared natural world will be projected onto the façade of St. Peter's Basilica in a contemporary work of public art that tells the visual story of the interdependency of humans and life on earth with the planet, in order to educate and inspire change around the climate crisis across generations, cultures, languages, religions and class.
The large-scale architectural public art installation is inspired by the themes of climate change, human dignity and the earth's living creatures in the Encyclical "Laudato Si'" of Pope Francis. Programmed to coincide not only with the Jubilee, but also with COP21 in Paris, the historic occasion will call on citizens of the world to join a global movement to protect our common home. The projection can be viewed live by those at St. Peter's Basilica and via live global television broadcasts and online streaming. 
The cinematic event will feature the work of some of the world's most notable humanistic and nature photographers and filmmakers including Sebastião Salgado (Genesi and Contrasto), Joel Sartore (National Geographic Photo Ark), Yann Arthus Bertrand (Human), David Doubilet, Ron Fricke and Mark Magidson (Samsara), Howard Hall, Shawn Heinrichs, Greg Huglin, Chris Jordan, Steve McCurry, Paul Nicklen and Louie Schwartzberg. The projection is curated by Louie Psihoyos and Travis Threlkel, and produced by Obscura Digital.
Fiat Lux: Illuminating our Common Home
Dec. 8, 2015 from 7:00 p.m. to 10:00 p.m. CET
St. Peter's Square, Vatican City
For media inquiries, please contact: OurCommonHome@Vulcan.com
To view the live stream of the event, for real time updates and to download To view the live stream of the event, for real time updates and to download press materials, including images and videos, please visit: OurCommonHome.World
#OurCommonHome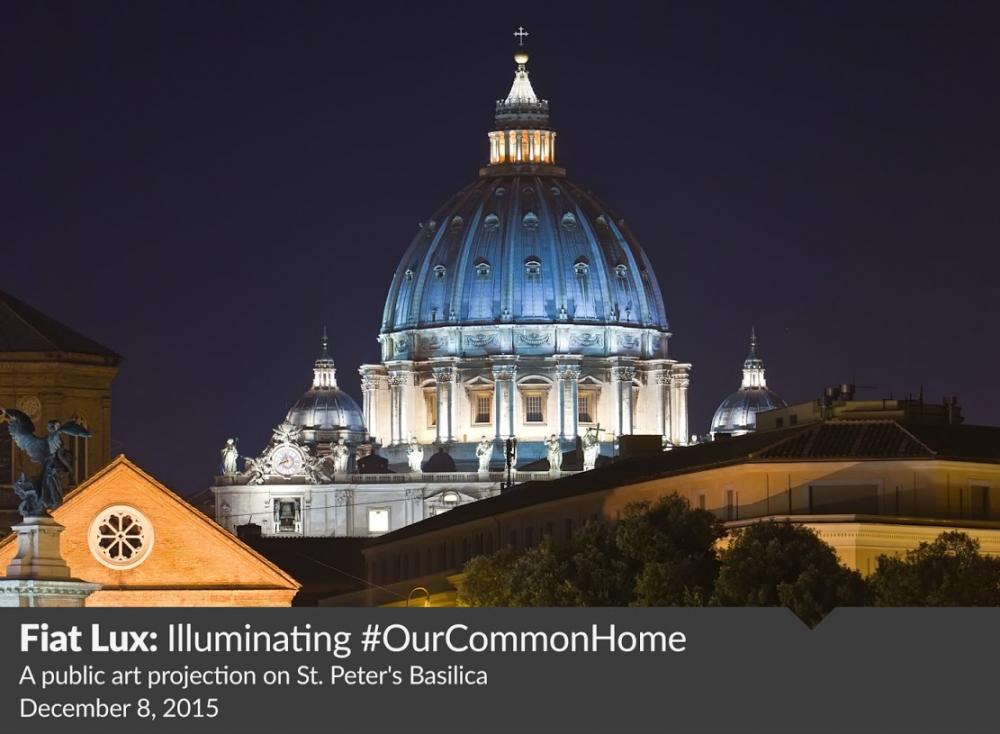 Carole Tomko
Vice President of Vulcan, Inc., adds, "It is an immense honor to participate in the partnership that is bestowing this gift to Pope Francis, with whom our founder Paul Allen shares a common vision for the protection of our treasured natural world." She continues, "It is our hope that this beautiful and contemporary work of public art will inspire citizens of the world to join together in a moment of compassion and to activate a global movement to protect humankind, our common home and precious endangered species." Li Ka-shing says, "It is a great honor to be a part of 'Fiat Lux: Illuminating our Common Home.' It is our hope that this project will inspire reflection, rekindling our quest for spiritual and scientific wisdom, renewing our hope and steadfastness. While science and technology can broaden human perspective, it is only through love that humanity can prevail. That is why it is such a privilege to participate in this project here, at the very nexus of the philosophy of brotherly love. We are humbled and grateful for the opportunity."
Jim Yong Kim
President, World Bank Group, states, "We are honored to be working with the Vatican to raise awareness of an issue so critical to our shared goal of ending extreme poverty. The poorest people in the world are disproportionately affected by the effects of a warming climate and are most vulnerable to natural disasters and extreme weather. This impressive initiative will draw global attention to the urgency of tackling climate change for the sake of people and our planet."
Lucia Grenna
Program Manager of the World Bank Group's Connect4Climate global partnership program, adds, "We are proud to support the realization of this gift of art to Pope Francis and to work with our creative partners to highlight the biggest issues facing mankind: poverty and climate change. This artistic display will tell a powerful visual story of the interdependency of all life on earth with our environment and we hope inspire the teams in Paris to push for the most ambitious deal possible."
About the Partners
VULCAN INC.
Vulcan Inc. creates and advances a variety of world-class endeavors and highimpact initiatives that change and improve the way people live, learn, do business and experience the world. Founded in 1986 by investor and philanthropist Paul G. Allen, Vulcan oversees various business and charitable projects including real estate holdings, investments in dozens of companies, including the Seattle Seahawks NFL, Seattle Sounders FC Major League Soccer, and Portland Trail Blazers NBA franchises, First & Goal Inc., the Seattle Cinerama theatre, Experience Music Project, the Science Fiction Museum & Hall of Fame, the Allen Institute for Brain Science, the Allen Institute for Cell Science, The Paul G. Allen Family Foundation and Vulcan Productions. Vulcan Productions produces compelling feature films, television series, specials, digital content and outreach initiatives designed to inspire people to take action on the critical issues of our time. For more information, visit www.vulcan.com.
LI KA SHING FOUNDATION
Established in 1980 by Mr. Li Ka-shing, the Li Ka Shing Foundation (LKSF) has three strategic focuses: nurture a new culture of giving; support education reform initiatives; and advance medical research and services. Mr. Li considers the Foundation to be his "third son" and has pledged one-third of his assets to it. With initiatives spread over 19 countries and regions, LKSF supports projects that promote social progress through expanding access to quality education and medical services and research, encouraging cultural diversity and community involvement. Since its inception, LKSF has granted over HK$17 billion, 87 percent of which benefit projects in the Greater China region.
OKEANOS — FOUNDATION FOR THE SEA
The Okeanos — Foundation for the Sea is focusing its attention on individuals and communities that are taking action and making positive steps to heal the oceans and to reconnect humankind with the sea. Okeanos encourages discussions and actions through documentary films that they either produce or finance. However, their main focus lies on the development and funding of practical projects worldwide, with a focus on the Pacific, where they also supported the projects of Pacific Voyagers Charitable Trust. For more information, please visit www.okeanos-foundation.org.
WORLD BANK GROUP/ CONNECT4CLIMATE
The World Bank Group plays a key role in the global effort to end extreme poverty and boost shared prosperity. It consists of five institutions: the World Bank, including the International Bank for Reconstruction and Development (IBRD) and the International Development Association (IDA); the International Finance Corporation (IFC); the Multilateral Investment Guarantee Agency (MIGA); and the International Centre for Settlement of Investment Disputes (ICSID). Working together in more than 100 countries, these institutions provide financing, advice, and other solutions that enable countries to address the most urgent challenges of development. For more information, please visit www.worldbank.org, www.miga.org, and www.ifc.org.
Connect4Climate (C4C) is the World Bank Group's climate communication program dedicated to driving global action on climate change, connecting and amplifying climate initiatives and activities, and creating social currency and political capital for climate action. It works with more than 300 partner organizations around the world, and is funded by the World Bank, the Italian Ministry of the Environment, Land and Sea, and the German Federal Ministry for Economic Cooperation and Development (BMZ). For more information: www.connect4climate.org
OBSCURA
Obscura is a creative studio headquartered in the heart of San Francisco's Dogpatch district. Since 2000, they have created one-of-a-kind immersive experiences worldwide. With a team of 60 full-time artists and technologists, its work transforms physical spaces and connects deeply and inspires its audiences. Its clients are pioneers: forward-thinking corporations, cultural dignitaries, and global changemakers.
OCEANIC PRESERVATION SOCIETY (OPS)
The Oceanic Preservation Society (OPS), an independent nonprofit organization, uses film, photography, collaboration, and social media – one "exposure" at a time – to educate, inspire, and empower the global community to become change agents that are actively engaged in saving and preserving the oceans, endangered species, and our planet. OPS's first film, The Cove, has won dozens of awards around the world, including the Oscar® for Best Documentary in 2009, and inspired over a million people to action. For more information, please visit: www.opsociety.org.