Looking to test your climate knowledge while quarantined at home? We've got just the ticket: C4C's very own climate-themed crossword puzzle!
We're excited to announce the launch of Connect4Climate Crosswords, a part of our #ClimateQuiz series that we hope will be fun and challenging in equal measure. The puzzles will come out once a month and this article will remain pinned to our homepage so you can easily access the latest grids as they appear.
If you follow the link to our first puzzle (just click the title or the URL beneath the grid), you'll be able to fill the puzzle and Submit it right in your browser window. You'll be asked to provide your name and email when you Submit—this is so we can congratulate you if you win! You might also include a Twitter or Instagram handle in parentheses so we can properly tag you on social media.
Oh, and if you need to take a break? Just press the Save button before exiting—your progress will be preserved when you reopen the link.
We'll announce the winning Crossword #1 submissions the weekend of Friday, May 1, so you've got plenty of time to mull it over. Crossword #2 will be posted here soon after, so stay tuned for that. Best of luck!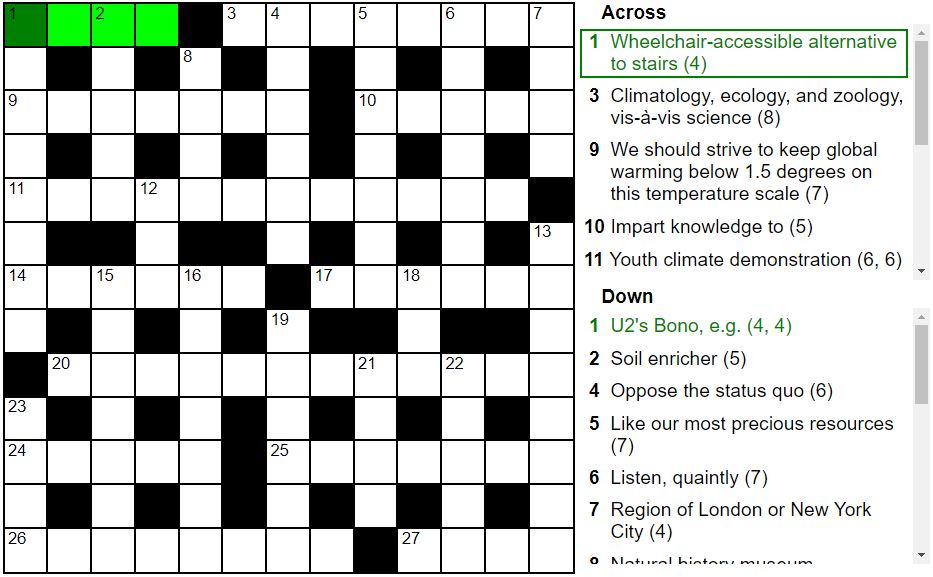 Solve and submit here: https://bit.ly/C4CCrossword1
Banner image courtesy of Steve Buissinne, Pixabay.